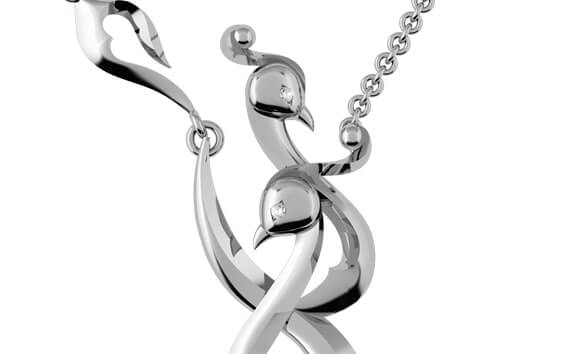 Display 45 Products per page
Walk in the light of love.  Vinyasa is bursting with sunlit gold and dreamworthy diamonds to brighten the greyest of days.  Give or save for Vinyasa: it's a new collection designed by us, crafted in 18ct gold, and finished by hand.
MAKING VINYASA
The prototypes alone took 6 months to perfect.  Our designers began with mood boards, gathering imagery from Indian art and illustration.  Early sketches formed the stylised shape and form of our Vinyasa peacock.  From paper, the designs migrated to computer software, which enabled our designers to 3D-print casts for the very first prototypes.  These were cast in silver and then adjusted and refined before being finalised.
VINYASA DIAMONDS
The diamonds for every piece are individually selected.  Ours are sourced from the cutting centre in Surat.  When they arrive in the UK, our jeweller picks out stones that are full of fire, and then painstakingly hand-sets every single one.  Before your jewellery reaches you, it will also be polished by hand in several stages.
VINYASA IN 18CT GOLD
Inspired by the majestic Indian peacock of art and legend, Vinyasa is our collection of jewellery that celebrates confidence and beauty.  From beautiful Indian pendants to 18ct gold rings and earrings, Vinyasa has a touch of ancient charm.  Embrace your beauty in luxurious style…