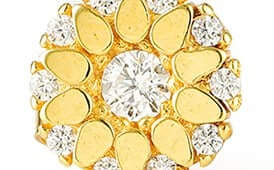 Display 45 Products per page
Payday treats and special gifts…
Hit our Gold Festival for a rush of pure shopping joy!  Here are all the little luxuries that make every day better.
Does your new-season wardrobe need a little extra gold glitter?  A stacking ring or a new pair of earrings in 22ct gold will send your outfit over the edge.  Our chic styles are always beautifully designed with Indian flair.
Looking for a gold gift for someone that you love?  Shop our Gold festival sale to enjoy discounts on some of our favourite gifting pieces.
Gold gifts under £200
The Gold festival is our ongoing sale that never ends!  If you're looking for a gift and you like a saving then start here.  Wondering what is suitable for the child / man / lady in your life?  Why not send us a message over Live Chat and let our in-store advisors send you snaps of their recommendations?  Our Gold Festival department carries a range of gold gifts including baby bracelets, 22ct gold earrings and 22ct gold collectors' coins.  If you're stuck for ideas, we may just have one!