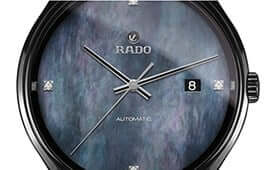 Display 45 Products per page
Gifts for Dad – jewellery and more…
He's your Dad.  He deserves everything.  Here is a range of our finest 22ct gold ear studs, gold chains for men and men's watches – exceptional gifts for Dads and husbands everywhere.
At PureJewels, our own founder
– grandfather Bhanji – still influences all that we do.  Family is at the heart of our work and we love to create special pieces that will help to show your Dad what he means to you.  Choose from our collection of men's jewellery or come into store if you want us to make something unique for your Dad.
Dad jewellery
A piece of jewellery becomes more treasured when it was a special gift.  So you can be sure that a set of men's earrings from PureJewels will become a valued part of your Dad's attire.  Choose from our range of white gold and diamond ear studs and they will arrive in a signature PureJewels box, ready to make a big impact.
If your Dad's jewellery collection is modest then perhaps a sophisticated gold chain is the right choice.  We supply Curb, Foxtail, Fancy, or Box men's chains in 22ct gold.  For men you should choose a length of at least 18"+.  If you're unsure then contact us through Live Chat for guidance from a store advisor.
For a special piece of 'Dad' jewellery, you can also choose a contemporary ring and have it engraved.  Our Christian Bauer rings are designed for weddings, but many of them make excellent dress rings for men.  There are contemporary styles including geometric patterns and brushed textures, yellow and white gold.
Birthday, Anniversary, Retirement, and Father's Day gifts
Jewellery gifts for men can be difficult to choose.  How about a piece of jewellery that you have designed yourself?  The design team in our London studio can customise or create a bespoke piece of men's jewellery to commemorate a landmark occasion.  Come to the showroom to see the latest jewellery and discuss a unique design for your Dad.
Gifts for Dads
Our best suggestions for Father's Day gifts include watches by RADO and Raymond Weil.  If it's a big occasion, a RADO watch is a really impactful gift.  Immaculately crafted in Switzerland, RADO watches feature high-tech materials and sapphire crystal for a robust, practical finish.  We don't know many Dads who would not be amazed to unwrap a RADO box.  That's why we have carried RADO watches for decades, and why your Dad will wear his for just as long.