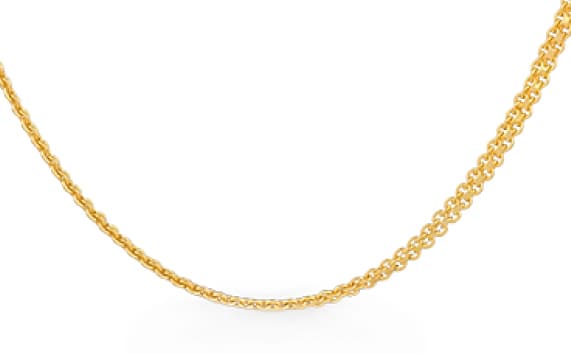 Display 45 Products per page
Choose a 22k gold chain from PureJewels
Perfect gifts or investment pieces, our 22k gold chains are exquisitely made from fine gold.  You may choose to add a pendant or wear it as a layering piece with other jewellery.  However you style it, your 22k gold chain is guaranteed to be gorgeous.
Our 22k gold chain prices
We've been supplying 22k gold chains in London for four decades now.  Our showroom in Green Street carries a selection of 22k gold, but if you're looking for something particular, please call or use Live Chat to enquire.  We can source 22k gold chains of different styles and lengths (16", 18" and longer), and even adapt or mend your own 22k gold chain, if required.  Our 22k gold chain prices vary, and they depend on weight and length.  In other words: the more gold, the higher the 22k gold chain price. Fancy chains and Curb chains are the heaviest designs; Foxtail or classic Chains are lighter options (worth remembering if you want to layer your chain with other necklaces).
Quality assurance
Our 22k gold chains are individually hallmarked by the London Assay Office.   Every 22k gold chain price includes a signature PureJewels gift box.  PureJewels is a trusted London jeweller with a reputation for excellence.  Generations have relied upon us for their 22k gold chains and other traditional jewellery, including wedding chains.  Now our online shopping site makes it easier than ever to shop at PureJewels without travelling in to the store.   It's still the same quality across the collection, just simpler to buy.
22k gold chains for men and women
There is something reassuring about the simplicity and longevity of a 22k gold chain.  It's always stylish and holds its value.  Men and women wear 22k gold chains, sometimes layered with more fancy jewellery, sometimes alone beneath a blouse.  This minimal piece of jewellery often carries emotional meaning, especially if it was once a treasured gift.  It is a style that won't be out of fashion for the foreseeable future.
For a wedding, a very long chain is traditional – and afterwards, a Mangalsutra gold chain is a favourite among brides.  If you'd like to dress up your chain, PureJewels has a fabulous selection of pendants to look at.  You'll find the greatest choice in our showroom but online there are some favourite designs (message us for availability – it changes daily, and we can usually source what you're looking for).
We occasionally collaborate with British designers, like Cindy Dennis Mangam, for special pendant collections.  If you're looking for something distinctive and special for your 22k gold chain, keep an eye on our website or – if you'd like us to create something bespoke – send a message.  Our designers work with customers to make one-off pieces that commemorate a special memory or event.
For the latest news from our design studio, subscribe to our Facebook page!