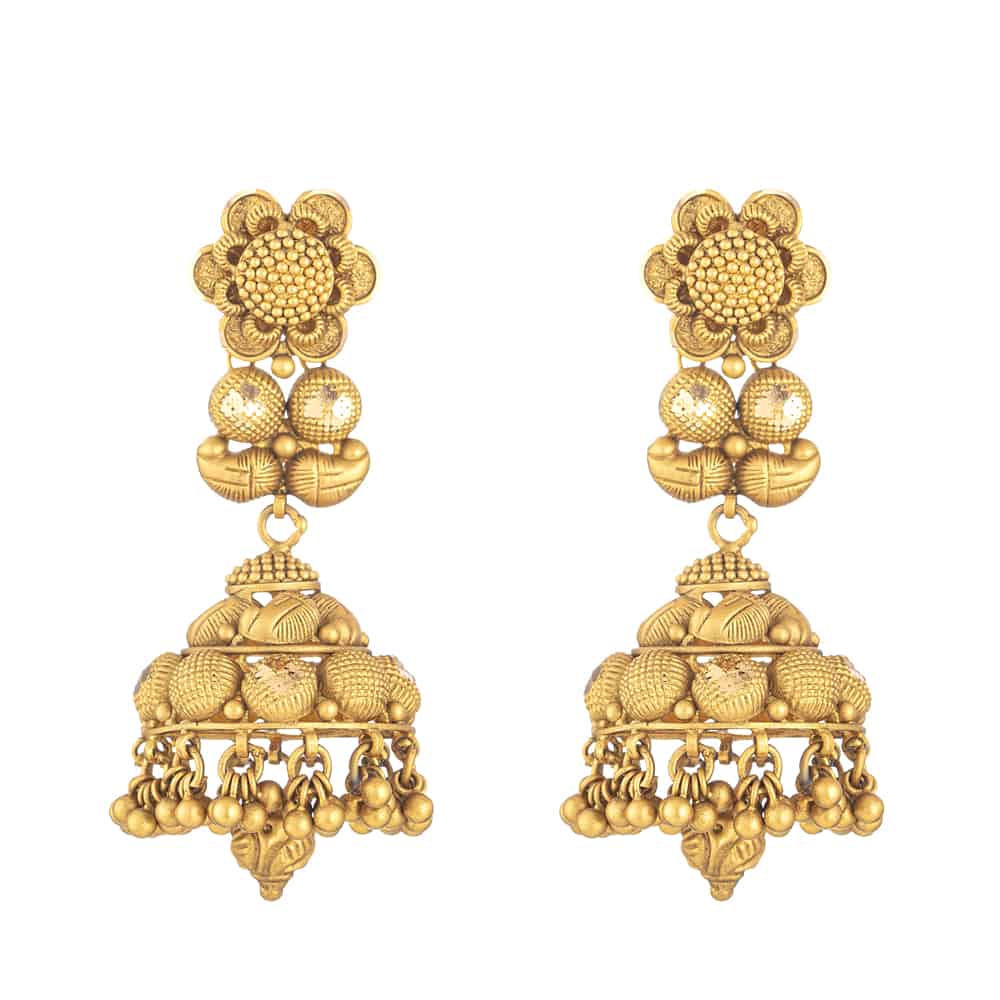 22 Carat Gold Earring With Antique Finish
£ 2,750.00
22 Carat Gold Earring With Antique Finish
Wt. 30.6g
SKU. 32103
All prices include VAT
22ct Gold Hallmarked by London Assay Office
Comes With Presentation Box
Delivery Included
Live chat with us for availability and more images of similar designs currently in stock
The hint of texture, the flash of gold, the delicate sound of beads.  These antique gold earrings are masterfully made in finest 22ct gold – just like their historic precedents.
For your next big occasion, choose these unforgettable Indian earrings.  They're beautifully finished by hand with delicate texture – zoom in to see the finely engraved lines.  Each one twinkles with dozens of shimmering gold beads, which are repeated in the stamen of the flower at the lobe.  It's a recognisable Indian classic, with the tinkling movement of a Jumkha and the floral inspiration of a palace garden.  No wonder this pair is a hot favourite for brides choosing antique gold bridal sets.
What's the finish?  These earrings are made from solid 22ct gold.  The antiqued finish has been created to mimic the ageing process – highly desirable on gold!  It gives a deeper lustre to the gold and draws out the details, just like the finish on a real antique piece.
Want to create your own antique gold bridal set?  This design works well with other pieces from our Antique Gold collection (just tap "antique" into the search box up top).  Of course, these earrings could be worn alone as a real statement piece – and not just for your wedding.  They're glamorous and showy, with the advantage of drawing attention to your face.  Go on – be unforgettable.