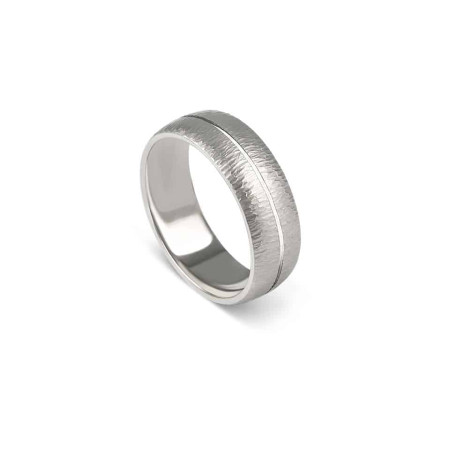 Christian Bauer Wedding Band Ring
£ 2,350.00
A distinguished men's wedding ring from Christian Bauer.  The platinum is textured to create an irresistibly tactile ring, reminiscent of ripples on water.  The central groove adds interest.  If you're wondering who to trust to make your wedding ring, Christian Bauer has you covered.  Christian Bauer is a world-renowned jeweller based in Germany for over 60 years.  Today, its skilled craftspeople combine careful handiwork with state-of-the-art machines to create the label's recognisably stylish wedding rings.   PureJewels is a long-standing UK stockist of Christian Bauer wedding rings: use Live Chat to order yours to size, or ask us what's in stock.
Authorised Christian Bauer London Stockist
Men's platinum wedding ring
Ring number 274458
Metal: Platinum
Width: 7.0 mm
Available on back-order
*Open Live Chat to order.
Visit an authorised Christian Bauer stockist in London.

Browsing wedding rings online can be daunting.  It's a significant purchase.  And it's probably more reassuring to order from a real bricks-and-mortar jeweller: if you need to return or resize your ring, we're here (on Green Street in E7).  Come in and discover the latest Christian Bauer wedding rings in real life.  Or, if you're far away, just open Live Chat.  You'll reach an actual, in-store advisor who can send you snaps of our stock.  We're here to help you choose the right wedding ring at the right price.