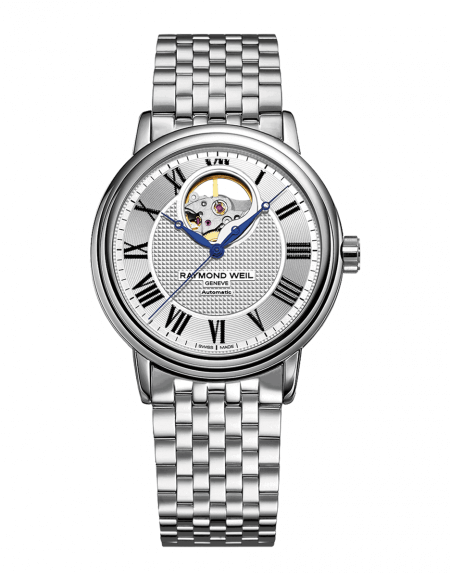 Raymond Weil Maestro Mens Watch
£ 1,225.00
SKU:

2827-ST-00659
Categories: 30th birthday jewellery, 40th birthday jewellery, 50th birthday jewellery, Birthday Jewellery, Father's Day Jewellery, jewellery for men, Maestro, Raymond Weil, Watches, watches uk
Tags: Automatic Watches, Luxury Watches, Raymond Weil Watches, Swiss Watches
Description
After selling this watch for many years, what do we love about the Raymond Weil Maestro?  It is, of course, an exemplary piece of craftsmanship, with accurate timekeeping and reliability – but the same can be said of every watch produced by Raymond Weil.  There is something distinctive and special about this one, which guarantees its long-lasting appeal.  The Maestro has a window on its mechanics, offering a glimpse of the miniature world behind the dial.  The design is elegant and classic, with steel bracelet and Roman numerals.  Then there are thoughtful touches like a double-push security clasp, and anti-glare crystal… putting the Raymond Weil Maestro in the world league.  Raymond Weil says that their watches are made for "all who recognise the value of work well done".  After many years of selling their watches to satisfied clients, we like to think that we recognise that value.
Want to see how it looks on your wrist?  PureJewels is an authorised stockist of Raymond Weil in London.  Visit the show room to try on the Raymond Weil 2827…. and maybe a couple more.
RAYMOND WEIL MAESTRO 2827: THE DETAILS
>Collection: Maestro
Size: Men's
Shape: Round
Movement: Mechanical with automatic winding, with visible balance wheel
Power reserve: 38 hours
Movement caliber height: 4.6 mm
Case material: Stainless steel
Case size: 39.5 mm diameter
Case thickness: 9.13 mm
Case back: Snapped, with sapphire crystal
Water resistance: 50 m, 165 ft, 5 atm
Crystal: Sapphire with anti-glare treatment on both sides
Dial: Silver, with Roman numerals
Crown: With RW logo
Bracelet / Strap: Stainless steel 316L
Clasp: Stainless steel folding clasp with double push-security system
The famous Raymond Weil Maestro watches
Raymond Weil Maestro watches form a varied collection with lots of variants – including designs such as the Maestro skeleton, Maestro blues, Maestro tradition, and several limited editions. The name 'Maestro' refers to the company's long relationship with the world of music, linking time to rhythm and craftsmanship in different mediums.  In essence, Raymond Weil Maestro is a classic collection with enough different designs to give you a choice for your own look.
Raymond Weil in London
Ask for three things from your next watch: reliability, practicality, and good design.  PureJewels carries only two watch brands and there's a good reason for this decision.  If you are looking for a watch for a special occasion or an important gift then you won't want to spend your budget on a great-looking watch that doesn't keep time perfectly.  We have chosen Raymond Weil and Rado for their reliable performance and, having sold both to many generations of loyal clients for the last few decades, we are confident to stand by our choice.  Come into the store for truly personal and honest advice when you buy your next watch.  PureJewels is an authorised stockist of Raymond Weil in London.
SKU:

2827-ST-00659
Categories: 30th birthday jewellery, 40th birthday jewellery, 50th birthday jewellery, Birthday Jewellery, Father's Day Jewellery, jewellery for men, Maestro, Raymond Weil, Watches, watches uk
Tags: Automatic Watches, Luxury Watches, Raymond Weil Watches, Swiss Watches