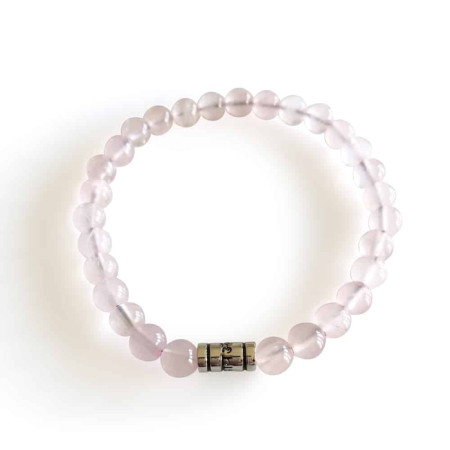 Rose Quartz Aum Namah Shivaya Silver Bracelet
£ 45.00
SKU:

31055
Categories: 16th Birthday Jewellery, 18th birthday jewellery, 21st birthday jewellery, 22ct Yellow Gold Ladies Bracelet, 30th birthday jewellery, Birthday Jewellery, Bracelet, Gents Bracelet, Gold Festival, Jewellery, Jewellery for Teens, jewellery for women, Ladies Bracelet, Mother's Day Jewellery, Occasion, Recipient, Sterling Silver, Under £100 Jewellery, wedding Gifts
925 Rose Quartz Aum Namah Shivaya Bracelet (S)
Beautiful & feminine in colour Rose Quartz stone are every ladies favourite must have. 
A stone related directly to the heart & emotions. The fair and lovely Rose Quartz, with its gentle pink essence, is a stone of the heart, a crystal of unconditional love. A stone that speaks to the heart and helps you to make the right choices and decisions. 
Key Energies Are:
Restores trust & harmony in relationships
Encourages unconditional love
Promotes love, self love, friendship & peace
Our 925 Sterling Silver Aum Namah Shivaya beads are hand engraved to give each piece a special touch. 
Length is  8 Inches . However shorter & longer length or bespoke to wrist size can be made.
SKU:

31055
Categories: 16th Birthday Jewellery, 18th birthday jewellery, 21st birthday jewellery, 22ct Yellow Gold Ladies Bracelet, 30th birthday jewellery, Birthday Jewellery, Bracelet, Gents Bracelet, Gold Festival, Jewellery, Jewellery for Teens, jewellery for women, Ladies Bracelet, Mother's Day Jewellery, Occasion, Recipient, Sterling Silver, Under £100 Jewellery, wedding Gifts