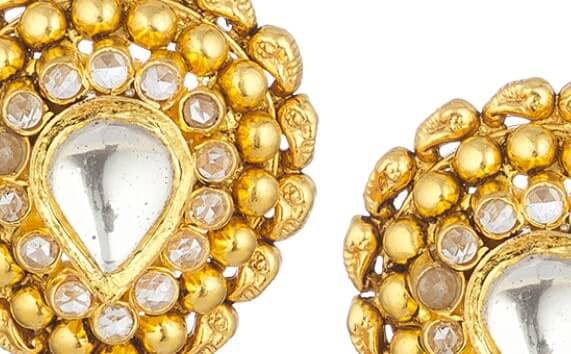 Display 45 Products per page
We're specialists in 22 carat jewellery
If you're searching for a fine mangalsutra, a lustrous pair of earrings, or a sensational bangle – choose 22ct gold for exceptional quality. In the 1970s our founder Bhanji Gokaldas made his name creating bespoke pieces from precious metals, and we've continued that tradition – sourcing from around the world and designing our own 22ct jewellery in London, where the PureJewels store is now based.
Indian 22ct gold jewellery with a contemporary shine
Our collections have a strong Indian influence. From the architecture of Bombay, the palatial gardens of Delhi, and ancient Mughal legends… all the way to modern Bollywood – inspiration comes from every decade.
For decades we have curated a collection of Indian gold jewellery from India and around the world, but in recent years we have designed more and more in-house at PureJewels. Our contemporary design team is drawn from around the world to give our PureJewels collections some modern flair. Many of our collections are exclusive and limited, including our Indian wedding and engagement rings, which can be customised or even redesigned in consultation with one of our designers.
The Gaja engagement ring, designed to reflect the royal elephant carrying a Maharani, is a favourite with brides who visit the PureJewels store. Although it's inspired by the ancient Mughals, it is a contemporary design with a stylish pave diamond halo.
One recent collection, Vinyasa, was inspired by the peacock – which appears in ancient scripts and art – an Indian icon associated with beauty and pride. There is a rich history of adornment in India, and Indian jewellery is envied all around the world. We give and wear jewels for every important occasion and there are many specific traditions and beliefs linked to different pieces. Our modern customer appreciates the history and significance that goes into our design process.
Why choose 22 carat jewellery?
22 carat jewellery is made from 22ct gold, which is at least 90% pure gold. Only 24ct gold is finer.
'Karat' or carat is the unit used to measure the purity of gold. Naturally, the purer the gold, the more it will be worth. There are 24 karats (carats) in pure gold but, in this pure state, gold is very hard and difficult to form into jewellery. 22 carat gold, which contains a small amount of silver, copper or zinc, is more malleable and perfect for creating jewellery.
22 carat jewellery is generally offered by the best jewellery designers as it's more expensive, and more revered, than 18ct gold jewellery. The beauty and prestige associated with 22 carat jewellery means it's a favourite of the famous and wealthy!
View our 22ct jewellery in London
The PureJewels store is a modern landmark on Green Street. Come along for chai and view our 22ct jewellery in comfort. Try it on and choose your favourites. Fallen in love? You can save up for a special piece. Call in and ask our friendly assistants for information about the saving plan.
Appointments to view our 22ct gold rings
The store is open to the public but if you're shopping for a special piece, give us a call to make an appointment.
If you're choosing a gift, one of our 22 carat gold rings for ladies will wow her. Select from a broad range of designs, from Mughal-style whoppers to delicate, contemporary bands. Each one is delivered in a signature PureJewels box.
Perhaps you're looking for an accessory to reflect your love of Indian culture? Our diverse range of 22ct gold rings is nothing like the range you'll see in most London jewellers… ours has a fabulously Indian flavour. Some are modern interpretations and others are ultimate classics; add a piece to your collection for a little Indian flair in your day!
If you're thinking of becoming engaged then we'd definitely advise a visit. Our Indian 22k gold rings draw on ancient tradition, and you can choose a matching engagement/wedding ring pair. Come in and you're your time choosing a 22ct gold ring to seal your betrothal. It's a special shopping trip, so do it like a VIP at PureJewels!