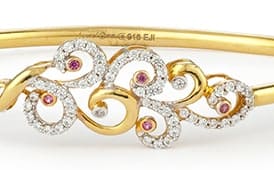 Display 45 Products per page
Earn yourself the title of "Best Gift-giver" with one of our favourite pieces.  What about a sapphire-set peacock or a row of diamonds for her wrist?  Here's a hand-picked selection of our finest bracelets with stones.  Jewellery to take her breath away…
If you're looking for bracelets with stones you couldn't really have picked a better place.  PureJewels has one of the largest collections of bracelets and bangles in London – if you want to fill your arms, come on in.
Trying to find a really special gift?  One of our latest collections, Vinyasa, was designed to celebrate the beauty of individuality.  The peacock motif appears on bracelets with stones, and other jewellery.  To make it a unique gift, you can choose the stone that you'd like – and we'll have it made just for your order.
Our range of bracelets with stones features plenty of diamond jewellery, including the popular Rose Gold Diamond collection, and some convincing zirconia alternatives – like our beloved Gold Hearts Bracelet (a PureJewels bestseller!).  Want to spoil someone with an extraordinary gift this year?  Top of the luxe list is our Rose Gold Polki Bracelet, an Instagram hit.