Browse Best Sellers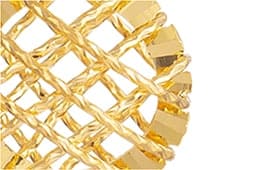 Display 45 Products per page
Inspiring gifts for landmark celebrations
We love to help you to celebrate treasured moments. There is no better
way than a thoughtful gift in 18ct or 22ct gold – and when it comes to
gold, PureJewels is a renowned specialist. Come into the showroom for
considered, wise advice about choosing the right gift – from Rado
watches to engagement rings, gold bars, and collectible pendants, our
range is bound to include something perfect.
Gold gifts for women
You'll find dozens of traditional Indian gold jewellery gifts – like bangles
and earrings – here. A pair of earrings is a particular favourite and
becomes a beloved, memorable gift, especially if it is a simple design
made from 22ct gold. For a contemporary or stylish woman, one of our
latest design collections is bound to appeal. Always with a hint of India,
our collections are created by the PureJewels design team, set with the
finest diamonds, and finished by hand in the UK. Vinyasa was inspired by
the proud, magnificent peacock and it's an ode to natural beauty and self-
confidence. Lotus is an elegant, classical collection inspired by the
floating lotus flowers in Indian palatial gardens – lots of signature pieces
and modern classics here. Gold gifts for women are always well-received,
especially if they're in a PureJewels box!
Gold gifts for men
Gold gifts and men are not an obvious combination, but if you want to
make an impression, we find gold bars popular; and if it's a landmark
occasion, a handsome watch is sophisticated and practical. Our range
includes watches by Rado and Raymond Weil, miniature masterpieces of
engineering, with stylish designs and lots of options. It's easy to find a
watch here that will suit your man – whether he's fashionable or
distinguished. Browse the site or come into the show room to see more
gold gifts for men.