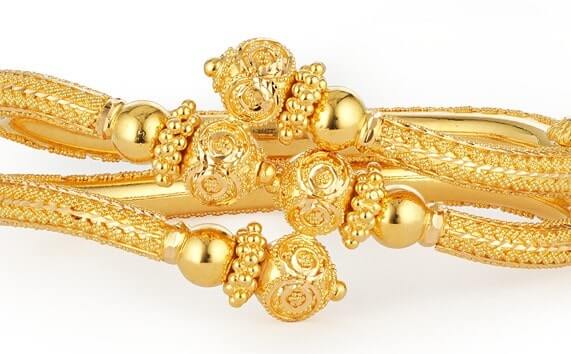 Display 45 Products per page
Gold lovers unite.
Gold is more than a good investment.  It's a statement of style.  It's a celebration of joy.  It's a lifetime of pleasure.
Decadent savings in our Gold festival!
The Gold festival is our sale that never stops.  We put some of our favourite savings under the counter especially for this department… and, from luxurious 22ct gold earrings to top-class watches, the selection is sublime.
If you have a £1000+ budget, you're in the right place.  This is the department for shopping gorgeous gifts (hello, diamond earrings!) and bridal jewels, whenever you're planning to make a serious purchase or choose a monumental gift.
Our sale always carries a wide variety of gold pieces.  But if you're looking for something particular, why not open Live Chat and see what we can offer you?
Invest in 22ct gold
A 22ct gold necklace is one of the best investment pieces, especially if you choose a classic style.  Browse our collection of distinctive, Indian necklaces to find something perfectly "you". Gold is an excellent investment that carries a secure value, recognised all over the world.  Choose a trusted supplier with traditional design values, and your gold will be treasured for many years to come.