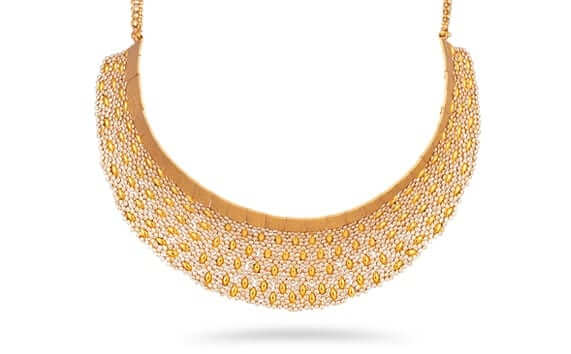 Display 45 Products per page
Bridal necklace sets for a sparkling day…
Your wedding day is the ultimate opportunity to shimmer and shine.  So choose yourself a generous handful of diamonds, add some 22ct gold, and serve with plenty of style.  Let's explore bridal necklace designs… it's time to pop the sparkle!
Choose from our exclusive bridal necklaces
Indian bridal necklaces are traditionally laden with gemstones and oozing glamour.  We've been inspired by the classics to conjure up a range of necklace designs.  Go big with a sensational Anusha polki diamond necklace featuring a stunning 1.72ct of diamonds.  Make a statement with a luscious collar of gold and rose-cut diamonds.  Or go simple with a gorgeously textured strand necklace in solid 22ct gold.   Your bridal necklace set has its centrepiece; now add some complementary jewels…
Add a bridal earring set…
Framing your face, the bridal earring set is also important.  Match it to your necklace in colour and stone or choose from one of our collections if you want to be perfectly coordinated.
You have to love a Jumkha, and we've got lots to choose from; they are beautiful with a vintage or traditional wedding look.  For the contemporary bride, there is a delicately diamond-cut earring in 22ct gold.    Our bridal earring sets can be viewed in part on the website, but come in to see a wider selection.
Come in to choose your bridal jewellery
Enjoy a leisurely morning at your favourite Indian jeweller – why not make an appointment and try on all the things?   We love weddings and we love helping brides to choose a personal wedding set, often incorporating traditional pieces with sentimental meaning, maybe including something totally different and original.   Come in to try all of the latest bridal necklaces: lots of new designs arrive in store before we have time to put them online!  We'd be delighted to welcome you to our show room on Green Street in East London.