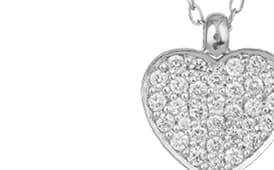 Display 45 Products per page
Prepare for your show-stopping entrance with a visit to PureJewels. Browse our bridal diamond neckwear online or in the showroom, and create a fabulous bridal look.
Gorgeous diamond necklace
Longing for a collar of diamonds around your neck? Go for it – there's no better time than your wedding day. You deserve a Hollywood-style piece of diamond necklace or diamond pendant to make an entrance on one of the biggest days in your life.
Our diamond necklace is inspired by historic Indian jewellery. The Mughals knew exactly how to use jewels to accentuate their beauty. Their motto seemed to be "more is better" and the royal women wore diamonds, pearls and other gemstones in every possible place. We've drawn inspiration from this era – which influenced all of Indian jewellery – to create some breathtaking diamond necklace. You're going to love it.
Dramatic diamond necklace
You can choose a decadent, dramatic diamond collar. Or you can choose a very simple diamond necklace or a diamond pendant. For your wedding day, the look reflects your personality. We love helping brides pick out a unique bridal jewellery set – make an appointment to come in if you'd like to try on all the diamonds! If we're too far then please explore the website and make use of Live Chat to ask us about your specific requirements. We can often make something in a different type of gold and we can even turn an old piece of jewellery into a bridal necklace. Whatever your vision for your wedding jewellery, ask us to help you make it happen!
The choice for Indian brides in London
You may already know that PureJewels has been established in Green Street since the 1970s. We've served generations of families, supplying jewellery for weddings and other occasions. PureJewels has become a destination for Indian brides and our bridal jewellery sets are now integral to our exclusive collections. We can't wait to help you prepare for your wedding.