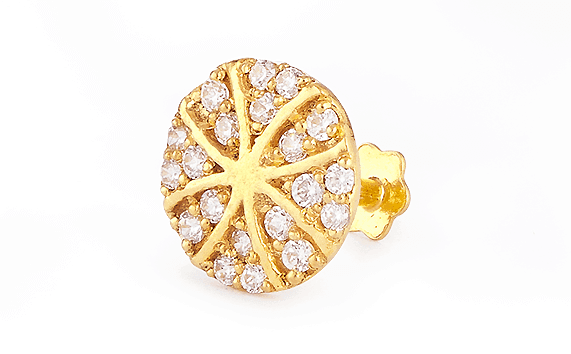 Display 45 Products per page
Find your favourite 22ct gold nose stud here

We use luxurious 22ct gold to make our pretty nose studs, in a diverse range of designs.  Choose a delicate dot, a romantic heart or a sweet flower.
Indian influences
As well as the contemporary favourites, you'll find authentic Indian nose studs in this department.  Elaborate or elegant with a touch of vintage – we love making pieces that refer to our cultural heritage.  If you're looking for genuine Indian nose studs then PureJewels is the place to start.
Zirconia and Diamond 22ct yellow nose studs
Diamond or zirconia?  All of our 22ct yellow nose studs are made with equal attention to detail: they're beautifully finished and exquisitely set.  The diamond nose studs start at £100.  If you choose zirconia, nobody will ever guess.
The meaning behind your 22ct gold nose stud
In Indian culture a nose stud traditionally represents marriage.  On her wedding day a bride might wear a dramatic nose hoop, which will be exchanged for a simple stud later on.   It is a beloved symbol of commitment – variously believed to enhance fertility and protect your partner.  Are you going to follow the tradition for your wedding?  It's a good excuse for a new diamond nose stud…