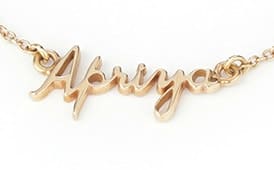 Display 45 Products per page
Truly personalised jewellery in 22ct gold
Secret initials or a message of love?  A name inscribed to last forever?  Perhaps you're imagining a unique piece for someone really special.  PureJewels can help you to present a truly personalised jewellery gift for a jaw-dropping surprise.
Personalised jewellery for mums

Treat a hard-working mum to a gift that she will treasure.  We create truly personalised jewellery for her – it's so much better than a mass-produced necklace, because every piece of personalised jewellery by PureJewels has been made to order.  You could choose a beautiful bangle from our classic collection and have it inscribed with a message of gratitude; or a bracelet from the exclusive Vinyasa range, with her birthstone set in the peacock's eye.  You could even commission a unique piece of personalised jewellery for her… maybe designed to match your mum's favourite necklace.  Almost anything from our collections can be turned into personalised jewellery for mum – send us a message or come in with your ideas.
Personalised children's jewellery
For children we offer a traditional Indian bracelet range to fit tiny wrists… and some more contemporary options.  Our Rose Gold personalised bracelet (above) can include a name or special word, so it's a really impactful and magical christening gift (although older children love these too).  Our baby's bangles can be inscribed in miniature, and if you have other ideas about personalised children's jewellery that you'd like then please get in touch!
Personalised men's jewellery
You'd be surprised how many men love a romantic inscription.  Our personalised men's jewellery is a popular choice for big birthdays and occasions.  Ask us about inscribing the inside of a ring or the back of a watch.  Our finest jewellery gifts make beautiful personalised items.  All you need do is come up with a message he'll love forever… 
Open Live Chat to find out more about your personalisation options.  You'll reach an in-store advisor who can check what's in stock and tell you what's possible – or offer advice for choosing your personalised gift.