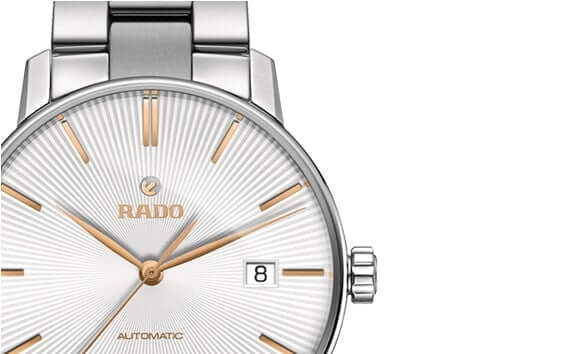 Display 45 Products per page
Rado Watches – London stockist
If you're trying to choose between a contemporary or classic watch,
here's the perfect balance. Rado Coupole classic is a signature collection fusing history with engineering.
We've been stocking Rado watches since the early 1980s. With over 35
years of experience, we've a wealth of knowledge on the brand. And we
know that you love this luxury Swiss watchmaker – a genius innovator
with a flair for drama and design.
Read on to discover more about Coupole, an iconic collection. Or come to our London showroom to see a range of the latest Rado Coupole classic watches and choose the perfect model for your style. If vintage-classic isn't your taste, try looking at Rado's ultra-modern True Thinline, the industrial-style Centrix OpenHeart, or iconic Integral.
Rado Coupole Watches
Coupole is a Rado favourite. Almost a century of design has been
condensed into a simple, elegant, signature timepiece. Manufactured
with great skill in Switzerland, Rado Coupole is an enduring collection –
and a marvellous introduction to the brand for new collectors…
Coupole embraces variety, whether you prefer steel or leather, diamond
or rose gold; there's an option here for everyone. There is lavish use of
vintage style right through the collection: rich brown leather, warm rose
gold, Roman numerals, and distinctive Guilloche patterns. Exceptionally
clear sapphire crystal and finely engineered Swiss movements make these
watches into future classics from the Rado stable.
Men's Rado Coupole Classic watches
The luxurious warmth of leather, the glint of steel, and precision of Swiss timekeeping… a Coupole watch is a gift to thrill. Undoubtedly, it's an investment decision; but Coupole is also a highly wearable masterpiece.
If you're having a Bond-style weekend, your watch won't be a hindrance.
It's an absolute joy to wear. Rado watchmakers are known for their
attention to usability: the dial has an anti-reflective coating, and high
contrast between dial and hands makes the watch easy to read when
you're in a hurry.
Women's Rado Coupole Classic watches
Rado Coupole for women is an indulgent choice. Choose the model
embellished with diamonds or mother-of- pearl – or opt for both. The
fashionable hint of vintage and effortlessly minimalist design mean it
works beautifully with anything in your wardrobe.
Comfort and practicality are not overlooked; the clasp is easy to fasten,
the watch is lightweight and the dial is clear as crystal (because it's made from sapphire crystal). Rado Coupole watches are even water-resistant to 50m. Yours will be a beloved accessory for everyday glamour.