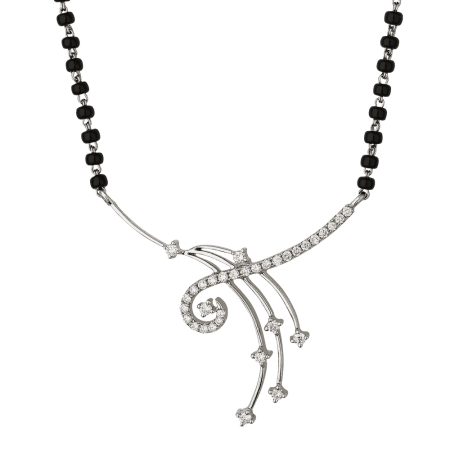 18ct White Gold Diamond Mangalsutra
£ 1,100.00
Searching for a traditional gold diamond mangalsutra with a stylish modern look? Your wish is our command. This star-shower pendant is crafted from 18ct white gold and lit up with diamonds. It makes a sleek, stylish contrast to the classic black beads of the mangalsutra. Designed with sweeping lines and negative space, this elegant gold diamond mangalsutra pendant is light and comfortable to wear. Simply perfect for the chic, modern bride.
 Mangalsutra with traditional chain and white gold pendant.
18ct White Gold
 7.1gm

0.32 Carat Diamonds

Chain not included.
The Mangalsutra is a traditional piece of jewellery worn by married women. The signature look features a black beaded chain and a pendant, crafted from gold. For the contemporary bride, we've found that white gold is a popular choice and we've added diamonds – after all, this is an investment for the rest of your married life.
This curving, romantic pendant weighs 7.1g and is finished with diamonds (message us for weight).
You'll need to buy the chain separately (so you can choose the black beads, or any other chain, if you just like the pendant).
It coordinates with our Wildflower pieces, if you wish to create a bridal or gift set. *Our gold diamond mangalsutra arrives in a PureJewels gift box.