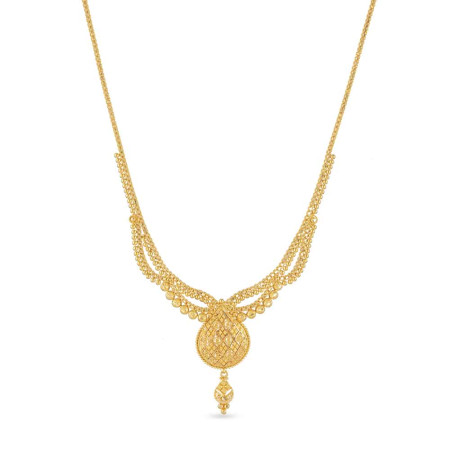 22 Carat Gold Jali Choker Necklace
£ 1,001.00
SKU:

30807
Categories: 21st birthday jewellery, 30th birthday jewellery, Collections, Jali, Jewellery, jewellery for women, ladies jewellery, Necklaces, Occasion, Recipient, Small Sets
22 Carat Gold Jali Choker Necklace
Wt : 14.3 g
SKU. 30807
18 inches
All prices include VAT
All our products are hallmarked by London Assay Office
All Sets comes with presentation Box
Delivery Included
Live chat with us for availability and more images of similar designs currently in stock
A piece of your life story.  A piece from a truly memorable outfit.  A piece given to you with incredible love.  It's not just a piece of gold.  Choose the 22ct Jali gold choker necklace when you want to mark a special moment.
Gold can become imbued with memory – wear it to a special occasion and it will lock away the sounds and feelings that you experience during the day.  That's why we love to build a jewellery collection, year by year.  It becomes a box of beautiful memories, just like an old photo album.  What's happening this year?  If you have a moment to commemorate, do it in gold.
The PureJewels Jali collection is firmly rooted in tradition.  We're reviving classic Indian techniques and masterful workmanship – in a design inspired by ancient Indian architecture.  This beguiling gold choker necklace is suspended along half its length with gold beads in the classic style.  It finishes with a spectacular double teardrop of 22ct gold, crafted with such detail that you'll want to sit and admire it.  This is the type of Indian necklace that you long to find as you shuffle through the dusty street markets.  We've used our experience to recreate it for the modern woman.  And it's certain to become a heritage piece in your jewellery box.
SKU:

30807
Categories: 21st birthday jewellery, 30th birthday jewellery, Collections, Jali, Jewellery, jewellery for women, ladies jewellery, Necklaces, Occasion, Recipient, Small Sets