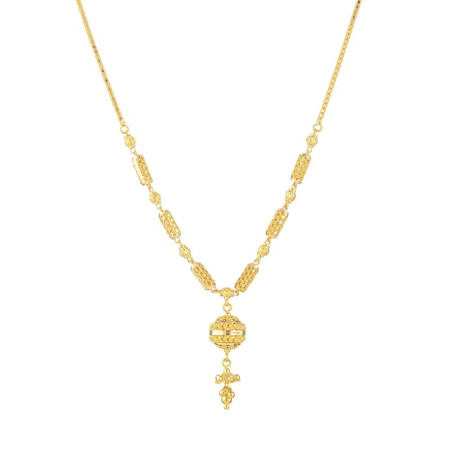 22 Carat Gold Jali Long Necklace with Pendant
£ 945.00
Product is currently out of stock and it is on back order, please chat to the team for assistance
SKU:

30883
Categories: 21st birthday jewellery, 22ct Gold, 30th birthday jewellery, Collections, Jali, Jewellery, jewellery for women, ladies jewellery, Necklaces, Occasion, Recipient, Small Sets
22 Carat Gold Jali Long Necklace with pendant
Light weight Necklace
Matching earring available
Wt : 13.5 g
SKU. 30883
All prices include VAT
All our products are hallmarked by London Assay Office
All Sets comes with presentation Box
Delivery Included
Live chat with us for availability and more images of similar designs currently in stock
A beautiful Indian classic from our Jali collection: in 22ct gold, this lightweight necklace is stylish and versatile.
It's a classic from the Indian jewellery vaults.  Our charming Jali pendant is authentic and traditional.
Although it has been inspired by ancient India, our Jali collection was designed by a British team with contemporary style in mind.
Influenced by ancient temple jewellery designs, this pendant is finished with shimmering gold balls in a dramatic drop.  The textured detail has elements of filigree, with latticed goldwork along the length of the chain.  In brightest 22ct gold, it's a wonderfully saturated pendant that seems to glow from within.
Note that this comes in a longer length, so it is perfect for layering with a choker or mangalsutra; introduce different colours of gold for a really contemporary effect.
The PureJewels Jali collection features ancient filigree in 22ct gold, for those who love a traditional Indian look.  Pick and mix pieces to create a fully coordinating set – for help, try connecting with us on Live Chat.
Product is currently out of stock and it is on back order, please chat to the team for assistance
SKU:

30883
Categories: 21st birthday jewellery, 22ct Gold, 30th birthday jewellery, Collections, Jali, Jewellery, jewellery for women, ladies jewellery, Necklaces, Occasion, Recipient, Small Sets