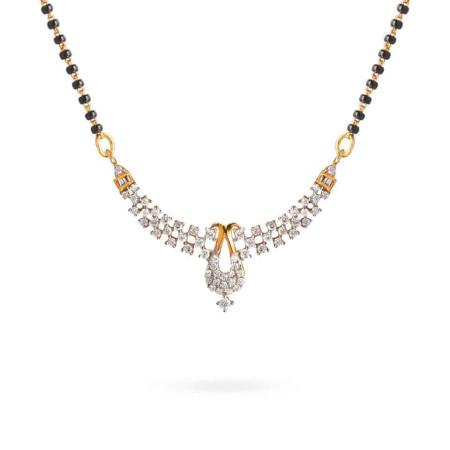 22ct Gold Mangalsutra Pendant
£ 350.00
For your perfect day, here is a sensational 22ct gold mangalsutra pendant. Shimmering, moonlight zirconia contrasts beautifully with midnight-black beads and warm gold. It's the centrepiece for your bridal jewellery, and a piece which you'll wear right through your married life. Inspired by classic mangalsutra, this decadent pendant features an Indian paisley teardrop laden with diamonds. There's no minimalism: it's all-out grandeur. And why shouldn't it be? It's an investment you'll make only once.  *This Gold Mangalsutra Pendant is individually made to order, so contact us if you'd like to buy.
Gold Mangalsutra Pendant without chain
Wt :  13.4 gms
All prices include VAT
22ct Gold Hallmarked by London Assay Office
Comes With Presentation Box
Delivery Included
MADE TO ORDER. Use Live Chat to enquire, or see more images of similar designs currently in stock.
This gold mangalsutra pendant is made from 22ct gold. We choose 22ct because it's the best quality for fine jewellery-making and, for a lifetime piece, it's the perfect choice.
It's finished with lots of facet-cut, top quality zirconia for diamond-like sparkle.
This gold mangalsutra pendant weighs 13.4g EXCLUDING CHAIN.
Buy a gold mangalsutra chain separately – message us for options. This way you can customise your mangalsutra, choosing your own chain or beads.
Hallmarked by the London Assay Office.
The tradition of the Gold Mangalsutra Pendant
In Hindu tradition, the Mangalsutra is given to the bride on her wedding day.  It is variously thought to protect her husband's health, enhance fertility, or create good fortune.  The combination of gold or yellow and black beads comes from the traditional colours used to ward off the evil eye.  The mangalsutra was once tied on by the groom and worn forever; these days, many married women wear it for special occasions only.  Whatever your views, wearing a mangalsutra is still very fondly regarded and it can become a beloved part of a woman's jewellery box.  It will probably also be passed down the generations, becoming the carrier of treasured memories.
How to choose the right Gold Mangalsutra Pendant
The Mangalsutra is a small part of your wedding day, but continues for the rest of your life.  So it's a good idea to choose a Mangalsutra that is somewhat classic (but very much to your taste; this is a highly personal piece of jewellery) and enduring.  It's an investment; if you can afford 22ct gold then go for it.  We have contemporary gold Mangalsutra (like the Vinyasa Mangalsutra, which bucks tradition in favour of white gold) and very traditional pendants (like this one in 22ct gold).   Perhaps the best way of choosing is to ignore all advice.  Choose a Mangalsutra that speaks to your heart.