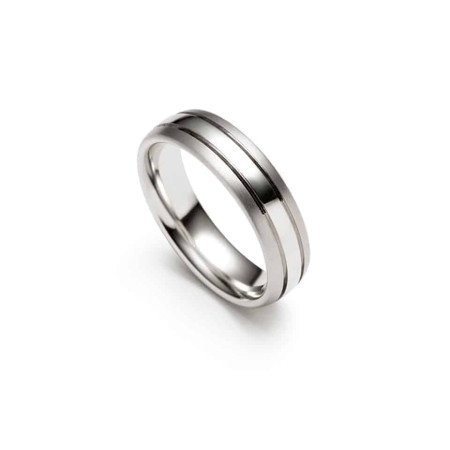 Christian Bauer Wedding Band Ring
£ 1,513.00
Product is currently out of stock and it is on back order, please chat to the team for assistance
SKU:

274030
Categories: Bridal Jewellery, Christian Bauer Bands, Christian Bauer Rings and Bands, Collections, Jewellery, jewellery for men, jewellery for men, Recipient, Wedding Rings, White gold jewellery sets
Christian Bauer Wedding Ring
If your style is classic but individual, then you'll love this: an eye-catching Christian Bauer wedding band with a polished contrast.  It has been crafted in 18ct white gold by the artisans at Christian Bauer.  Brushed to a matt texture along the edges, the ring is defined by a double bevelled groove.  It's a beautiful choice, simple and eye-catching, and easy to wear with everything (which, of course, you'll now have to do).  It's a decision to take very seriously indeed – so define your commitment with sophistication.
Authorised Christian Bauer UK Stockist in London
Christian Bauer Wedding Ring – 0274030
Finish: Matte finished edges and polished centre
Metal: 18ct White Gold
Finger size pictured: S
Width: 6 mm
Every Christian Bauer wedding band is special.
Not just because it has been made with a conscience – using previously-mined metals, and washed with treated rainwater.
Not just because it has passed through many pairs of expert hands – as it is shaped, bevelled, brushed, polished, and finished.
Not just because it bears the German fir tree stamp, to mark its exclusive providence (a quality mark showing it's an authentic Christian Bauer wedding band).
And not just because it is surprisingly comfortable and flattering on your finger.
Because it's about to become your companion for life.
Product is currently out of stock and it is on back order, please chat to the team for assistance
SKU:

274030
Categories: Bridal Jewellery, Christian Bauer Bands, Christian Bauer Rings and Bands, Collections, Jewellery, jewellery for men, jewellery for men, Recipient, Wedding Rings, White gold jewellery sets