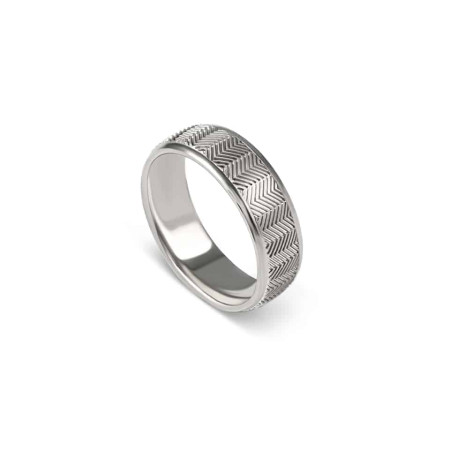 Christian Bauer Wedding Band Ring
£ 1,580.00
Picking up the geometric trend in precious metal, this textured men's wedding ring is designed by Christian Bauer.  The raised pattern adds interest and depth to the surface, a sophisticated twist on the classic brushed men's ring.   Christian Bauer wedding rings are always produced with exceptional attention-to-detail.  They are made by a team of experienced jewellery-makers in the company HQ in rural Germany.  Palladium is a contemporary choice for a wedding ring and puts this one in a more affordable price bracket – your chance to snap up a Christian Bauer wedding ring for a bit of a steal.  *Your Christian Bauer wedding ring will be ordered, unless we have your size in stock.  Use Live Chat to enquire or order.*
Authorised stockist of Christian Bauer rings in London
Men's wedding ring – 274466
Metal: Palladium
Width: 7 mm
*Open Live Chat to order.
About Christian Bauer and palladium

Related to platinum, palladium is a high-density metal which is slightly softer and less expensive than platinum.  So it's perfect if you're coveting a Christian Bauer wedding ring at a lower price.  Palladium has a natural silver lustre, like rhodium, and is known to 'self-heal' when it is dented – so it's simply perfect for making a robust wedding ring.