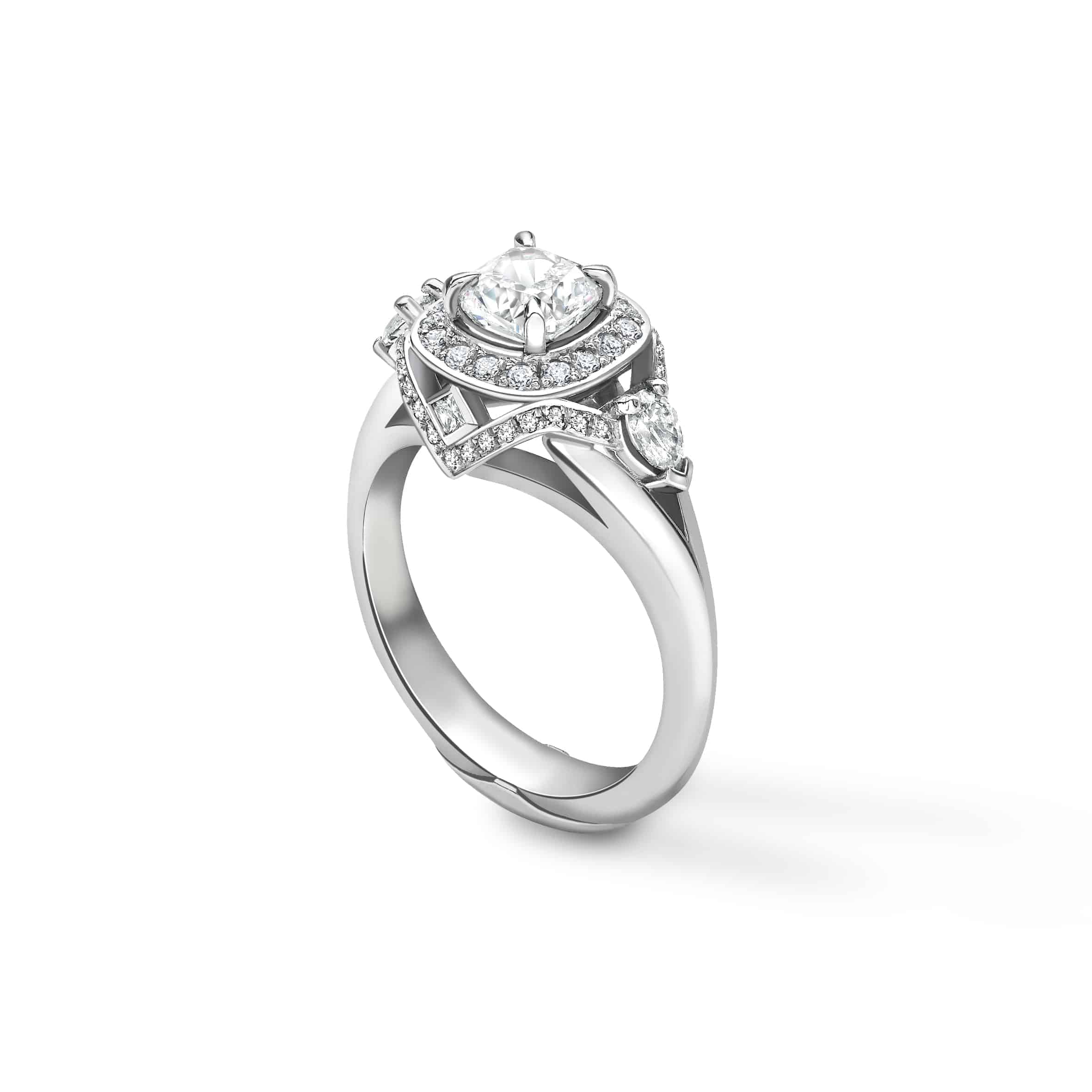 Gaja Ring
In Platinum
Set with a Cushion cut diamond, VS clarity
Two pear yellow diamond brilliant shoulder setting, VS clarity
Two square diamonds, VS clarity
Available in a variety of carat weights
Contact us on Whatsapp or visit our store to explore our exquisite collection of Gaja Jewellery
Gaja platinum ring with diamonds
When the Mughals wanted to mark a special occasion, they climbed up onto a royal elephant.  These days, diamonds are easier to store; so we created Gaja, inspired by the magnificent Indian elephant. If you want to feel like royalty, the Gaja diamond ring is The One.
Old-fashioned glamour
Designed in-house and crafted in Britain, Gaja is an award-winning engagement ring.  Our designer fused Indian history with contemporary style and created this abstract version of a royal elephant carrying a Maharani, trimmed with diamonds that sparkle like the Indian sunlight.
Imbued with cultural significance, the ring represents abundance, fertility and wisdom.  The look is luxurious, with a hint of vintage – the Gaja engagement ring is a chic choice that carries historic meaning, and perfect for any woman who occasionally acts like an Empress.
An engagement ring should be show-stopping…
That's why we've loaded the Gaja ring with diamonds.  The shank is frosted with 84 pavé-set diamonds that have been brilliant-cut at one of the world's finest cutting centres.  To accent the centrepiece, there are two glittering pear-shaped diamonds.  And let's talk about that main stone…
Choosing the diamond for your engagement ring
Your engagement ring is for life, so make sure the diamond's perfect.
PureJewels diamonds are individually selected as loose stones from one of the world's finest cutting centres, in India.  Our buyer inspects each stone, checking not just colour, clarity and cut but looking for that luminous 'fire', which distinguishes the really special diamonds.
A range of sizes is then brought back to Britain, ready to be set into our diamond engagement rings.  Using the website, you may select the carat, colour and clarity that you'd like (please see our guide under How to Buy a Diamond Engagement Ring).  When you place your order, the stone for your ring will be carefully selected according to your specification.
If you'd like to inspect the diamonds for yourself, please make an appointment to come in – we'd be delighted to show you stones to suit your chosen ring.  Use the link alongside any product to book an appointment.
Buy your diamond engagement ring in confidence.
Every diamond is certified by the Gemstone Institute of America, which is known for its scrupulous testing.  Your ring will arrive in a signature PureJewels box and discreet outer packaging.  We are pleased to offer free valeting for life on your engagement ring.  Should it not be absolutely perfect, you can return it to us free of charge.