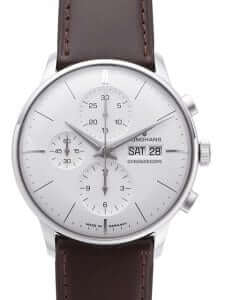 Junghans Meister Chronoscope Mens Watch
£ 1,525.00
SKU:

27412000
Categories: 21st birthday jewellery, 30th birthday jewellery, 40th birthday jewellery, Birthday Jewellery, Chronoscope, Collections, Father's Day Jewellery, Junghans, Junghans, Meister, Occasion, Watches
Junghans Meister Chronoscope Mens Watch
Model no 027/4120.00
The beauty of function.  Junghans watches are renowned for quality, undergoing stringent tests before they're even assembled.  The extreme accuracy and performance of a Junghans watch makes it perfect for everyday wear in a smart environment.  If you're looking for a gift for a professional or distinguished gentleman then you won't disappoint him with one of these.
The Chronoscope Meister comes from a heritage line of men's watches.  It was first created in the 1930s and then redesigned in the 1960s, which has given it an authentically vintage style.  It is classic and cutting-edge, with a transparent back that exposes the mechanics.  Under the bonnet you'll find a movement that is extremely accurate (and self-winding) – the foundation for all of the impeccable men's watches by Junghans.
You've probably heard of the name Junghans.  "Our passion is precision," says this German watchmaker, which has been producing incredible timepieces since the nineteenth century.  It is now one of the world's top brands for men's watches, embodying the sophisticated and masculine style.
Technology: Self-winding movement calibre J880.1
Function: Stop function, date, day (Also available with English week day display.)
Housing: Stainless steel, screwed case back, 40.7 mm, height 13.9 mm
Glass: Convex hard Plexiglass with SICRALAN coating
Watchface: Matt silver-plated, hands with environmentally friendly luminous substance
Waterproof: Water-resistant up to 3 atm
Bracelet: Horse leather strap with stainless steel buckle
Chronoscope Meister Watch
For measuring time with precision, the Chronoscope Meister watch features three auxiliary dials and a stop function.  It is designed for utmost practicality: the face is covered with impressive scratch-resistant Plexiglass and features softly luminous hands, for ease of reading when the light fades.  If you have any questions about this watch please open Live Chat.  You'll reach an advisor who can answer queries, advise on delivery times, and show you the models in-stock right now.
Contact us / chat with us to explore our Junghans Watches UK collection.
Related Products
Recently Viewed
SKU:

27412000
Categories: 21st birthday jewellery, 30th birthday jewellery, 40th birthday jewellery, Birthday Jewellery, Chronoscope, Collections, Father's Day Jewellery, Junghans, Junghans, Meister, Occasion, Watches