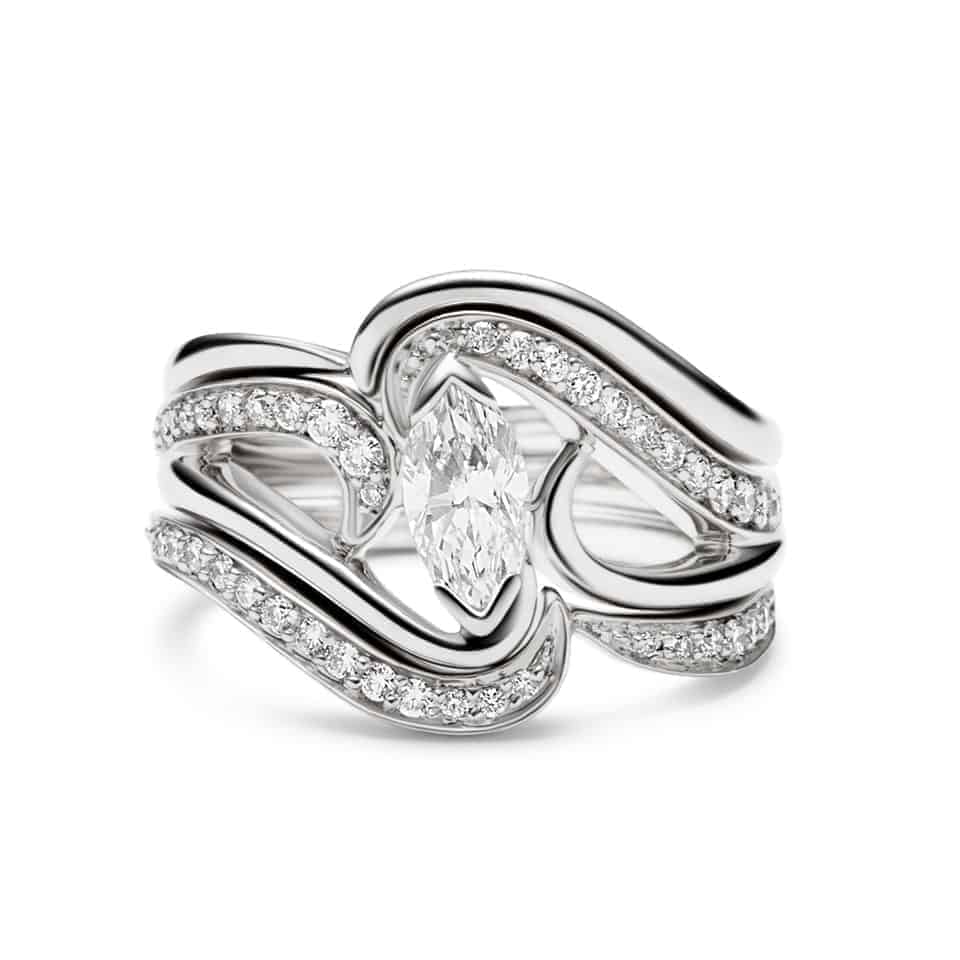 Liana Rings
£ 8,550.00
SKU:

16476
Categories: Cocktail and Dress Ring, Recipient, jewellery for women, Jewellery, Diamond Ring, ladies jewellery, Platinum Jewellery, Rings, Bridal Jewellery, Engagement Rings, Wedding Rings, Collections, PureJewels, Floralia
Liana diamond platinum ring
Cool, contemporary, and charming: Liana is a stylish choice.  The unusual central stone brings flair to this platinum engagement ring, which is unconventional and interesting – just like the woman who wears it.
Modern Indian engagement rings
While many of our engagement rings are classically inspired (like the Gaja, based on a royal elephant), Liana is a modern style from our talented in-house design team.  Based on the concept of a romantic wildflower garden, its intertwining tendrils carry a romantic, oval diamond.
This is an abstract interpretation of Indian style.  It's a joyful celebration of love and beauty, with a distinctive diamond setting that holds the stone in an embrace.  We think the Liana is an extremely romantic and sensual ring, inlaid with plenty of diamonds and a rare oval diamond for extra fascination.
An engagement ring for the fashionable bride
Liana co-ordinates with platinum pieces from our Floralia collection.  The engagement ring is crafted from platinum with 0.83ct of diamonds and comes with complementary valeting for life.
Choosing the diamond for your engagement ring
We source our diamonds from one of the world's top cutting centres in Surat, India.  Our buyers carry out checks to choose the very best stones in every price range.  They look for that unrated quality – fire.
To customise your ring, you may choose the carat, colour and clarity of the stone that will be set into it.  It is possible to do this online – use our Guide to Buying Diamond Engagement Rings (scroll to the bottom of the page) to understand what each rating means.
But no matter what weight, colour and clarity you select, you will receive a stone – chosen by us – that is the finest in its class.  If you prefer, you are very welcome to come into the store and inspect our loose stones, and you can even hand-select your own diamond.  If ordering online, your stone will be individually chosen by our master jeweller, and set into the ring just for you.
Certifying your diamond engagement ring
We send our diamonds to the Gemstone Institute of America for testing and certifying.  The stones are examined by testers and the lowest grade (colour/clarity) cited is the one that's entered on the certificate.  That means that your diamond is likely to be better, but never less, than certified.
Not every jeweller uses the GIA, nor supplies a certificate; so be aware of the difference when you buy your diamond ring.
Platinum Diamond Ring
Diamond  : 0.83ct
Size K+ in Stock
All prices include VAT
18ct Gold Hallmarked by London Assay Office
Comes With Presentation Box
Delivery Included
Contact us / visit our store to see similar Platinum Wedding Rings London , UK
Related Products
Recently Viewed
SKU:

16476
Categories: Cocktail and Dress Ring, Recipient, jewellery for women, Jewellery, Diamond Ring, ladies jewellery, Platinum Jewellery, Rings, Bridal Jewellery, Engagement Rings, Wedding Rings, Collections, PureJewels, Floralia