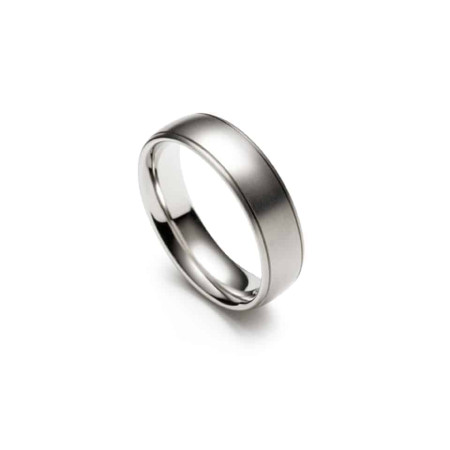 Twin Groove Christian Bauer Wedding Band Ring
£ 1,056.00
You aren't a show-off.  You like things that are well-made and understated.  So here's your wedding ring.  It's a quietly beautiful band of polished palladium.  Why palladium?  This season, Christian Bauer has made a limited number of wedding rings from ultra-rare palladium.  It's related to platinum, with equal lustre.  But because it's underused, it's also slightly more affordable.  We're delighted to offer this contemporary wedding ring, in a distinctive Christian Bauer design: ideal for the sophisticated, contemporary groom.  The twin grooves are bevelled with mathematical precision and the finish is, as always, exemplary.  It's stamped with the German Fir tree – Christian Bauer's unique stamp of authenticity.  *Order your wedding ring to size.  You can come in or try it on at home.  For advice or to reserve, please open Live Chat.
Authorised Christian Bauer Stockist
Christian Bauer Wedding Ring – 273888
Finish: Matte finished edges and polished grooves
Metal: Palladium
Width: 6mm
*Open Live Chat to order.
The making of your Christian Bauer wedding ring

Arriving at the Christian Bauer production facility, you'd be struck by the sleek, modern architecture – and the floor-to-ceiling windows – of the building, which hugs the landscape.  It's in Welzheim, surrounded by the Welzheim Forest, a fairytale fir wood that is charming in every season.  Perfect inspiration for a jewellery label, which introduces naturally-inspired textures and finishes to its wedding rings.  The workshop is duly respectful of its beautiful surroundings: it has an independent water-treatment facility, and a pledge to disturb no earth.  Using previously-mined metals, the team crafts your wedding ring with supreme skill (and some low-emission machinery).   They've modernised the facility and design aesthetic without losing the traditional approach – which is why we love their wedding rings so much.