A Guide to Die Stamping
The art of adornment can be traced back to the stone age. Over time, not only did the variety of materials expand, but the manufacturing technique also improved. New inventions led to the application of the same machinery to produce other products.
One such example of this is the die stamping or die striking technique. Die stamping is done by pressing fine gold sheets with a hammer into a specially designed metal mould called a die, allowing the creation of highly intricate and delicate pieces.
History
Die stamping's roots are often loosely related to repoussage. The repoussage technique involves hammering out metal from the reverse side. Embossing is the opposite technique. The main aim of these techniques was to create designs through the force of pressure.
However, it was coin stamping or making that helped in refining the die stamping process. The metal stamping was done in various ways, such as embossing through impact pressure, blanking, impressing, et cetera. Coin stamping was used to produce coins and medals of intricate designs starting from the ancient civilisations.
In the industrial revolution, the stamping process became mechanised, allowing die stamping to flourish.
The Technique of Die Stamping
Here, thin sheets of gold or other metal are pressed into a mould, which is also made of metal. Next, the metal sheet is pressed (or 'struck') into the mould using a hammer or a strong hydraulic press. Finally, die striking moulds the metal sheet according to the design of the mould. The mould can also be textured to add additional detail to the piece. Finally, the moulded element is removed, filed, or sawed until clean and smooth.
This process can be repeated multiple times to create multiple identical pieces. Die stamping is a mechanical process. However, artisans still need skills to press them and not deform the shape properly. The individual pieces are then linked together to create a beautiful piece of jewellery.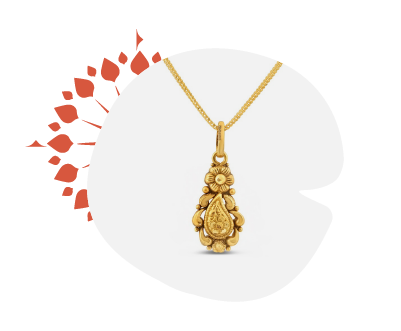 In jewellery making, there are various stamping techniques such as blanking, embossing (in case of embossing by impact pressure) or impressing. It depends on the designer's end goal and the effect they would like to achieve.
Die stamping is extremely helpful in maintaining the consistency of designs and in producing vast quantities of motifs. In addition, the technique is a testament to how human brilliance has enabled us to create beautiful art pieces.
These individual motifs are assembled in repeating patterns or a mosaic-like design. These elements are assembled by being set in plaster and then soldered together.
Die striking and casting may resemble similar processes as they both use moulds. However, die striking uses solid metal, while casting uses molten (melted) metal. Die striking is also a more intensive process than casting, making it unsuitable for mass manufacturing. Die-striking jewellery also requires highly skilled labour as the process is entirely hand fabricated. The result is unparalleled pieces of jewellery that are indeed a celebration of intricate craftsmanship and inspiring luxury.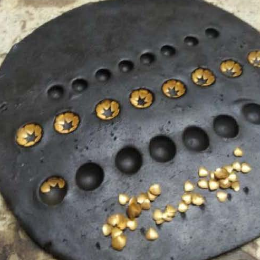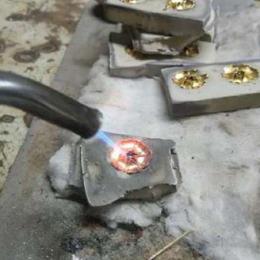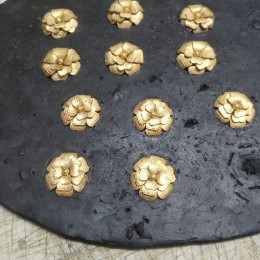 Die Stamping at PureJewels
At PureJewels, our core philosophy is celebrating luxury and craftsmanship. It is important to preserve traditional crafts as well as work in harmony with modern methods.
Our Rosette collection is a testament to this. The entire collection is created using die-stamping. The collection is delicate and whimsical, inspired by blooming roses — the queen of flowers. The collection celebrates you and your achievements on your life's journey.