From gold heirloom pieces to our first jewellery purchase, every piece holds a special place in our hearts and rekindles wonderful memories. Just the mere sight of the bejewelled treasure excites us and fills us with joy. And if you like to wear them often, as you should, it is very normal that they wear out and become dull, with the passing time. To keep the sparkle alive, your gold jewellery needs pampering every now and then. Cleaning jewellery can be overwhelming, but here's where PureJewels comes to your rescue. Our guidelines will help you restore your ornament's pristine condition at the comfort of your home. So, let's dive straight in to find out the best way to clean gold jewellery and learn all about jewellery care.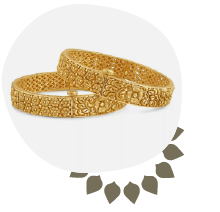 How can Jewellery Tarnish?
Gold jewellery in many traditions and heritages represents the Sun for its allure and radiance. Gold is an inert metal and doesn't tarnish in its pristine form. So what happens, you ask? There are primarily two reasons. First, Regular use. The longer you wear, gold is bound to lose its shine and polish. Main culprits here- chemicals, perfumes, moisturisers and dirt. When these materials come in contact with a precious metal, it starts to become dull. This definitely doesn't happen overnight, which is why proper jewellery care can prolong the dullness.
Second, gold in its natural form is extremely soft, other metals are mixed to increase its longevity and also to add colour. White gold has pure gold mixed with palladium or silver, Rose gold has pure gold and parts of copper. It is these other non-precious metals that are susceptible to tarnish when in contact with moisture and chemicals.
Cleaning Jewellery 101:
Answering all your cleaning and jewellery care questions right here! Our comprehensive guide has been constructed in a way that it's probably the only guide you need to refer to, where we touch upon almost every detail a consumer needs to know and should know.
Jewellery Care
Prevention is better than cure, in all walks of life. And when it comes to avoiding jewellery tarnish, it largely depends on how you store your jewellery and your daily habits. The following are some general tips that can be of great use in maintaining your jewels.
Limit the exposure of chemicals, apply perfumes and lotions before wearing the jewellery.
Take out your jewellery before a pool or sauna session. Avoid wearing it while working out or in any activity which might scratch it.
Invest in a jewellery organiser and thank us later!
Keep your jewellery away from direct sunlight or damp conditions.
Store different metals separately, ideally in a soft link case, and make sure the pieces don't touch and scratch each other.
Avoid wearing fine jewellery when you go to bed.
Cleaning of Gold Jewellery at home.
Anything that doesn't involve too many steps and materials is easy, and this one is actually easier than you could imagine. All you need is a bowl, warm water, soft toothbrush, towel and a mild soap, everything readily available at the comfort of your home, by far the best way for cleaning gold jewellery.
Steps:
Fill a bowl with lukewarm water, add in mild soap/detergent and mix well.
Soak your gold jewellery for 15-20 mins, not more, not less.
Use a soft bristled toothbrush, with a light hand to clean any dirt stuck between the nooks and settings, Don't be harsh here.
Rinse under normal water and thoroughly air dry on a kitchen towel.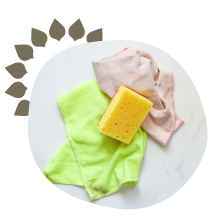 Rose gold or White gold jewellery can be cleaned just as you clean your classic gold jewellery.
Keep in mind: Soaking for adequate time is crucial, warm water will help by loosening all the dirt stuck even at the most difficult places. Make sure the temperature of water isn't extreme, neither too cold nor too hot for cleaning gold jewellery. Strictly do not use any harsh cleaning agents or bleaches, they might do more harm than good. After cleaning, make sure to store the pieces properly.
How to clean gold rings with stones?
Every gemstone comes with its own physical and chemical properties. Besides a gamut of colours, its features like- hardness, mineral group and atomic composition differentiates them. Therefore, cleaning and care for each stone varies and it's best to check with your jeweller when cleaning gemstone-studded jewellery.
One tip that works for all gemstone cleaning is to invest in a Gem cloth and wipe the gemstones set in your ornaments. It removes the traces of any oil or dirt accumulation, though it'd just be a quick fix.
Diamonds, Rubies and Sapphires:
If you're worrying about how to clean gold rings with stones, such as diamonds and sapphires, these minerals are the hardest gemstones on earth and the above discussed method is appropriate to clean gold rings with stones.
Emeralds and Opals:
Do not soak Natural Emeralds and Opals, they're delicate and this could result in major damage. Take extra care if it's a treated emerald. Just run them through water and use a soft brush to clean the edges, avoid soaking completely.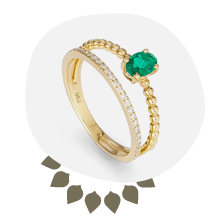 Pearls, Coral and other Organic gems:
Organic gems are wonderful but definitely need a little extra care and attention. Pearl jewellery shouldn't be exposed to water. Make sure not to soak them for a long time, just use a soft cloth dipped in warm water to wipe it. Be gentle and never clean with steam or ultrasonic tools as these will irreversibly tamper with the gems.
Curious to learn about coloured stones? Click on the link to check out some articles that we've created and learn more about their properties.

When to reach the jeweller?
If you haven't received desired results from cleaning gold jewellery at home or you're unsure about the gemstone or just too scared, PureJewels suggests bringing it to a professional cleaner instead of making it a DIY project. An expert will not only restore its shine but can also fix any loose settings, so the gemstone doesn't fall off. We recommend getting professionally checked and cleaned once in six months.
PureJewels offers Jewellery cleaning, Polishing and Plating services at the store, we are always ready to help you with anything to do with Jewellery care. Just get in touch with us! We at our store possess the latest equipment to get rid of every spec of dirt and make your jewellery all refreshed

Conclusion:
Taking proper care of jewellery and cleaning it timely is very crucial but often neglected by people in their daily lives. Gold jewellery needs gentle cleaning and now we are sure that you're well aware of jewellery cleaning and especially about how to clean your gold rings with stones. Know that with precious metals and fine jewellery, even a little care and caution goes a long way. Follow these tips and make a habit to take care of your jewellery for it to deliver what it's meant to deliver; everlasting joy and happiness!