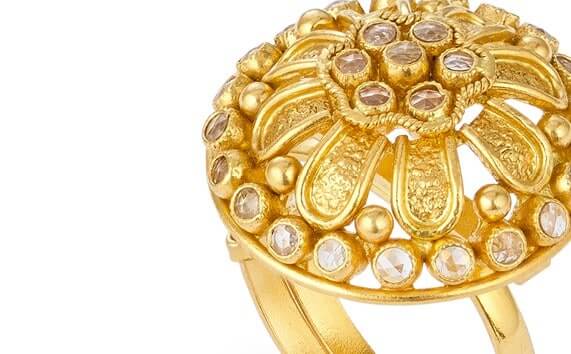 Display 45 Products per page
Making memories
The sun's always out at our Gold Festival!
Dive in and choose a piece to celebrate this moment in your life… or a memorable gift for someone that you truly love.  Gold is for giving (and keeping forever).
We have decadent earrings inlaid with chic Polki diamonds; dramatic gold bangles in the classic Indian style, and sensational 22ct gold necklaces.  For the men in your life, you'll often find a designer watch in our sale section too.  We specialise in Rado, Raymond Weil and Junghans watches for men and women; in store and online you'll find surprise discounts as we make space for the newest editions!
Our favourites on sale
The Gold Festival is the place to find your next piece of jewellery – with a bit of a saving.  The selection is hand-curated and includes something for everyone.  From bridal mangalsutras to Indian earrings and 22ct gold bangles, it's a beautiful assortment of lots of our favourite gold pieces.  And we've taken a hearty discount, so you'll have an even bigger "golden glow".
To snap up the best PureJewels bargains, bookmark this page and follow us on social.