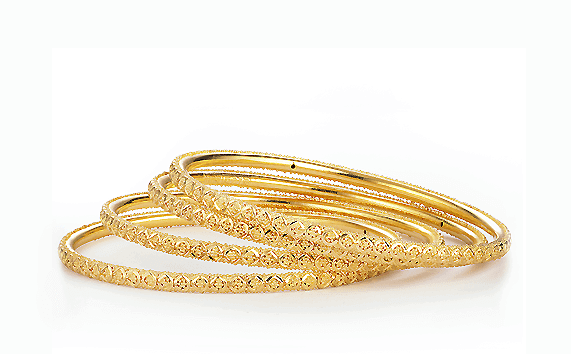 Display 45 Products per page
Every woman needs her own gold bangle set. Wear it, adore it, and pass it down the generations.  This is an investment – for you and for your family.  Our gold bangle sets are inspired by the finest Indian traditions and made with exceptional workmanship, creating real heritance pieces.
Your own gold bangle set

You'll know when you see it: that perfect bangle set, made in solid 22ct gold, with a detail that's totally 'you'.  There's lots of variety here.  From highly authentic solid gold bangles to modern, diamond-cut and two-tone gold bangles, the PureJewels range is fascinatingly diverse.
As a starting point, you might like our gold everyday bangle set – slender bands of 22ct gold that you can stack up for any occasion.  If there's a more significant event this year then you'll find plenty of luxury options, plated in rhodium or black rhodium, or intricately detailed gold.  We are adding new bangle sets to the website all the time, and if you're looking for something special it's worth asking what else is in stock – or even popping into the show room, where you can try on all our gold bangle sets.
Advice on choosing a bangle set
PureJewels has been selling Indian jewellery in London for more than 40 years and, with expertise in designing as well as finding beautiful pieces, we are delighted to help you choose your jewellery.  Families have trusted us for their major purchases for decades and we invite you to take advantage of our friendly, honest advice service.  Simply open Live Chat to reach an instore advisor who can help you to refine your choice and pick the right gold bangle set for any occasion or recipient.