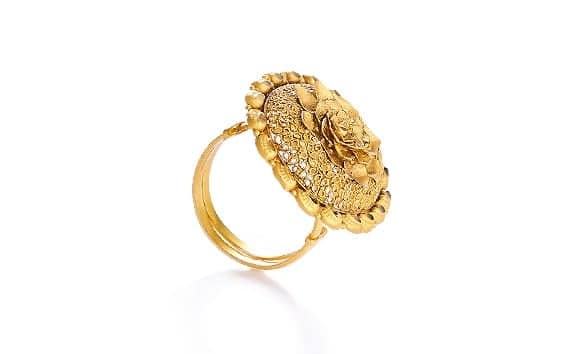 Display 45 Products per page
Fancy a sensational new cocktail party ring to match your cocktail dress? We have stacked up some of the most beautiful party rings in the world. Loaded with diamonds or inlaid with rubies, glimmering with sapphires or trimmed in zirconia – there's a ring here for every finger. Enjoy…
Choosing a ring for a cocktail party

Choosing jewels for a smart cocktail party, or part of your wedding celebrations, is such a joy. These are the nights when you can unleash your inner diva and wear ALL The Sapphires! Pick a colour to coordinate with your outfit or nails; or add a vibrant note of contrast. Indian style is always about maxing out on colour. We have party rings with rubies, polki diamonds, aquamarine and diamonds – a stone for every setting.
Make a chic statement in a big, designer 22ct gold dress ring.  Or embrace the joy and be the rainbow… an Indian-style cocktail ring covered with peridot, sapphire and rubies is always a favourite.
Cocktail Party rings with modern design
Our design team draws inspiration from ancient India – which, in fact, was the origin of a surprising number of jewellery trends.  Uncut diamonds (polki) have been popular in India for centuries, and traditional motifs like the peacock and paisley are also enjoying a renaissance on social media.  But our design team seeks to blend the finest design traditions with contemporary style – launching sensations like the Vinyasa ring, and a unique diamond-cut Sparkle collection.    The PureJewels signature collection features the African violet, English rose and Indian lotus – fusing cultures in a dramatic design.
Alongside our in-house creations, we also carry dress and party rings from our travels around the world, and delightful multi-stone dress rings in rose gold and white gold, which are perfect for dressing up for engagements. We know you'll find something to adore in these pages. If you don't, why not tell us what you're looking for?