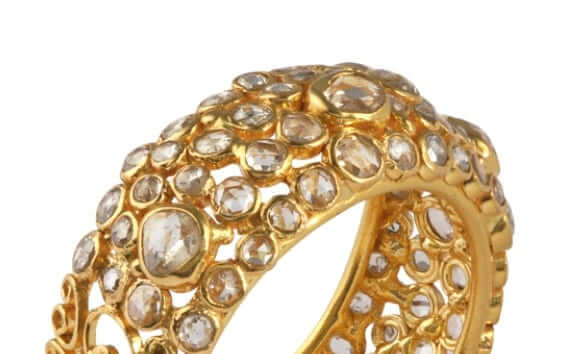 Display 45 Products per page
Gorgeous 40th birthday jewellery
Love lights her face with beauty. If she's as lovely as ever, then tell her. There's no better way than with jewellery! It's perfect for a joyful, seize-the-day kind of a birthday present. Here are our best ideas for 40th birthday jewellery for both men and women.
Give her gold jewellery for her birthday
40 years is a drop in the ocean.  We've been selling jewellery in London for almost 60!  All that time has bred confidence and quality.  By now we've refined our taste, acquired exceptional designers, and sourced the best diamonds and precious metals.  If you know an amazing woman who is about to reach 40, we know exactly how to make her smile on the big day.  Browse these pages to see a selection of our loveliest gold jewellery for her birthday – from 22ct gold statement earrings to luxurious gold bangles and elegant, Swiss-made watches.
Gold jewellery for his 40th birthday
Make the big 4-0 memorable.  A balloon on the door won't be good enough.  For the man with taste and style, choose a sophisticated piece of gold jewellery for his birthday.  One of our favourites is a simple gold chain – and we have lots to choose from, in 22ct gold for perfect luxury.  You might also consider our diamond ear studs or a platinum or gold dress ring by Christian Bauer – part of our wedding collection but fantastic anniversary or 40th birthday presents too. Don't forget that our gold jewellery is ready to give as a birthday gift – it arrives in a signature PJ box.
Bespoke 40th birthday jewellery
If you want to give gold jewellery as a birthday gift, but you can't find exactly the right thing, give us a try. PureJewels is accustomed to adapting, repairing, and creating commissions for our customers. From recreating a treasured piece of jewellery to producing a one-off design for a 40th birthday, our in-house jewellery design team can probably help.
Looking for something that isn't online?  Send us a message over Live Chat.