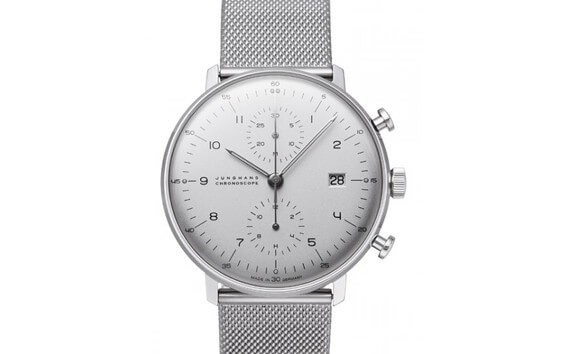 Display 45 Products per page
The history of Men's Junghans watch
Founded in 1861, Junghans is a classic watchmaker.  With a rich and prestigious history, Junghans was producing some of the earliest Chronograph Junghans watch for men in the 1940s, at first exclusively for pilots and eventually available to the general public. The company hired Max Bill during the 1950s – who helped to shape a collection of Bauhaus watches, which has remained a steady bestseller ever since.
Bestselling Junghans men's watches
Junghans Max Bill Chronoscope men's watch
:  Vintage Max Bill Chronoscope watches can sell for thousands, but since it was launched the watch has undergone subtle changes and is now better than ever.  The luminous pips are a famous feature, just like the distinctive '4' numeral (often accredited to Max Bill, although Junghans seems to have used it prior to his employment).
Junghans Meister Classic men's watch:
The Meister collection was launched by Junghans during the 1930s and is beloved for its handsome vintage style.  The Meister classic men's watch has a very uncluttered face with clear numerals and excellent movement.  It's one of our top recommendations if you're looking for a quality watch for a man in your life.
Junghans Meister Chronoscope Men's watch:
This was one of the watches that evolved from Junghans' early watches for professional pilots.  With three auxiliary dials and a date window, Junghans' Meister Chronoscope provides an extremely precise measurement of time.  Perfect for the perfectionist!  Flip the watch over; the back is transparent, giving you a glimpse of the trusted, self-winding movement.
Junghans Meister Calendar men's watch:
Part of the Meister range, the Junghans Calendar range is designed for functionality; it features a date dial while the Pilot and Chronoscope models have two or more auxiliary dials. This is a very elegant Junghans watch for men, retaining the vintage simplicity and stylish numerals.