Browse Best Sellers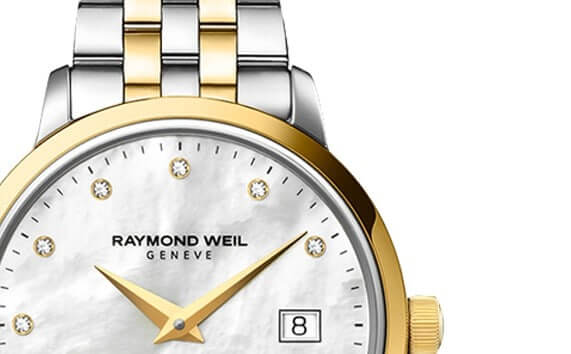 Display 45 Products per page
Raymond Weil men's and women's watches
If you've found this page then you probably know that Raymond Weil
watches are extremely covetable and collected all over the world.
Impeccable precision and stylish Limited Editions put this brand on the
Wish Lists of the rich and famous…
The history of Raymond Weil watches
Raymond Weil Watch Geneve for Mens and Women
Established in the 1970s by the gentleman of the same name, Raymond
Weil is a flagship Swiss watchmaker. It's been handed down through
three generations and has a reputation of excellence and desirability.
Interestingly, the company has a long association with music; an early
collection, 'Amadeus', was launched to coincide with the celebrated
movie about Mozart. Today, Raymond Weil watches are often inspired by
music (Tango) or designed to honour a musician. Musical editions include Bowie, Sinatra, The Beatles, Buddy Holly, and Gibson Les Paul guitars – all hugely collectable.
In 1999, Raymond Weil Geneve invested heavily in research and
development. This led the company to develop the Dual Timezone
system and a patented interchangeable bracelet. The Freelancer
collection is a pioneering path-maker, introducing a visible balance-wheel to enhance the mechanical style. The Maestro watches feature
innovative moon-phase displays alongside time and date.
Men's Raymond Weil watches
Our men's watches by Raymond Weil range from classic to contemporary,
crafted with Swiss expertise and continental sophistication.
Tocatta is a modern classic with minimalist face and an elegant,
sophisticated style. Tango has an industrial look, and Maestro has
traditional appeal, with some musical Limited Editions. If you're looking for something more unusual, the Freelancer watch collection is very distinctive and collectable.
Women's Raymond Weil watches
You may think you'll never choose the right watch, but we think our
Raymond Weil collection is failproof! There's something here to please
the choosiest woman in your life.
One of our in-store favourites is Tango, a polished silver timepiece with a fashionable industrial style. Tango watches have accents of rose or yellow gold and up to 50 diamonds.
Toccata is an elegant and minimalist collection that shows off the brand's flair for simplicity. Or, for a very feminine look, we adore Noemia – a curved watch dial, luxuriously finished with pretty mother-of- pearl and diamonds.
Come and see the Raymond Weil collection…
If you're choosing a gift, browsing online can be difficult! So if you need any suggestion then it's worth give us a chance to explore our collection of Raymond weil watches uk.
Raymond Weil Geneve Mens & Women's Watches
Our range of exquisite, elegant jewellery, infused with a variety of different styles and concepts, can raise the profile of any outfit. We believe that among our collections there really is something for everyone and every occasion.