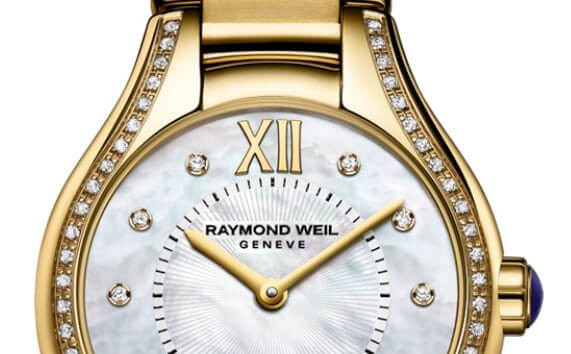 Display 45 Products per page
Luxury ladies' watches by Raymond Weil
With lavish curves and scattered with diamonds, Noemia is evocative of the female aesthetic. Crafted in Geneva with love, this Noemia collection from Raymond Weil watch, named after the founder's beloved granddaughter, is a deserved favourite at Raymond Weil.
Noemia was launched by Raymond Weil watch in 2009 and, say Raymond Weil, "has been charming women the world over" since. We'd like to think our female customers look for more than just charm. Granted, Noemia has been designed to seize female attention – featuring mother of pearl and between ten and 62 diamonds, this watch is famously glamorous. But beneath the face is an intelligent piece of engineering built with Raymond Weil's persistently good mechanics.
Men's watches seem to be analysed with more gravitas than ladies' watches. But, if you wish to look beyond the frivolous good looks of your wristwatch, then you would be wise to investigate Raymond Weil watch. Take, for example, the movement; a Swiss quartz made by Swiss firm ETA, with a reputation for excellence. Finished in sapphire crystal with RW's signature double-push clasp, the Noemia watch looks polished and – a fact which is underplayed – is actually a seriously trustworthy watch from Raymond Weil watch.
Noemia watch variations
The Noemia collection is small and perfectly formed.  If you like a simple, chic look then you might prefer the silver-on-silver model, featuring a moonlight-white mother of pearl watch face and stainless steel bracelet.  In this colourway you can choose 10 diamonds (the perfect everyday watch) or an extravagant 62 diamonds.  At the top of the Noemia selection is the yellow gold PVD plated model with 62 diamonds, a luxurious option for special occasions.   (PVD is a vacuum coating process that makes the finish more resistant to chipping.)