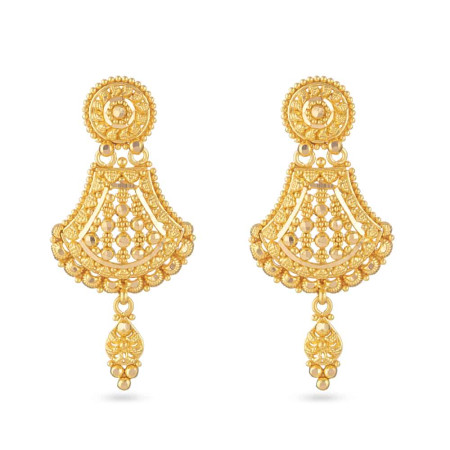 22 Carat Gold Filigree Bridal Earring UK
£ 630.00
22 Carat Gold Filigree Bridal Earring UK
In Fine handcrafted filigree work
Wt : 8.7 g
SKU. 30810
All prices include VAT
All our products are hallmarked by London Assay Office
All Sets comes with presentation Box
Delivery Included
Chat with us to see the live images of all 22ct gold Bridal collection in our Upton Park Store.
Looking for a dazzling accessory for your big night?  Tiny dancing beads adorn these 22ct filigree earrings.  Each one is faceted for a crystal-bright finish.   The effect is starry and glamorous… fit for any red carpet!
These fabulous gold filigree earrings are lighter than many of our traditional designs, so you'll never tire of wearing them.  Though they're popular with brides, they're easy to wear on any occasion, even a weekend lunch – whenever you want to add an Indian flourish to your outfit.
Gold filigree is an ancient art that has influenced many of our exclusive collections.  Inspired by the beautiful architecture of an Indian palace at sunset, these 22ct filigree earrings display spectacular craftsmanship.   Each earring is made with an intricate network of faceted gold balls in a floral and sunray design… for maximum sparkle and impact.  The look is classically Indian, but light and contemporary.  It's the perfect addition to the cultural mix-up in your jewellery box…