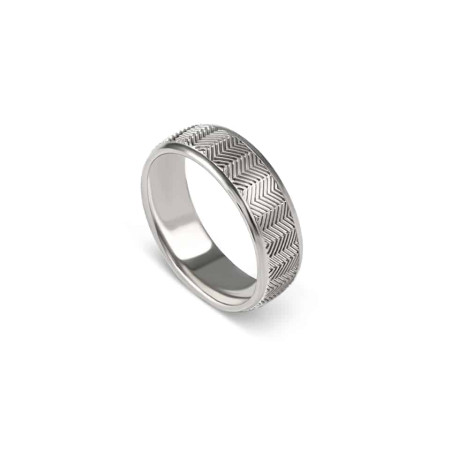 Christian Bauer Wedding Band Ring
£ 2,690.00
Christian Bauer Wedding Rings
If you're searching for a distinctive men's wedding ring, meet Christian Bauer.  This German jeweller has been creating original wedding rings for over 100 years and continues to bring out some of the freshest designs in the industry.  This zig-zag patterned style is a popular textured men's wedding ring, available in platinum (pictured), palladium, or white gold.  The platinum option has a cooler shine that will suit your skin tone if you wear cool colours like grey and navy blue.  The pattern is expertly applied by the artisans in Germany, where the ring is polished and stamped with the German Fir to guarantee authenticity.  You won't regret spending money on your wedding ring, so take the matter seriously.  *Use Live Chat to find out if your size is in stock – and to ask questions about the options.  Our in-store advisors are ready to talk.*
Authorised stockist of Christian Bauer rings in London
Men's wedding ring – 274466
Metal: Platinum
Width: 7 mm
*Open Live Chat to order.
PureJewels – authorised stockist of Christian Bauer in the UK.

Browsing online for a wedding ring can be difficult, so we endeavour to make it easier.  First, use Live Chat for sensible, honest advice about which metal is right for you – and how to measure your finger.  You can then order, when you're ready, over Live Chat or telephone the showroom.  If you are near London then you are most welcome to come and see the rings in person.  We will be happy to show you the latest Christian Bauer wedding rings, so that you can appreciate the comfort and finish in real life.