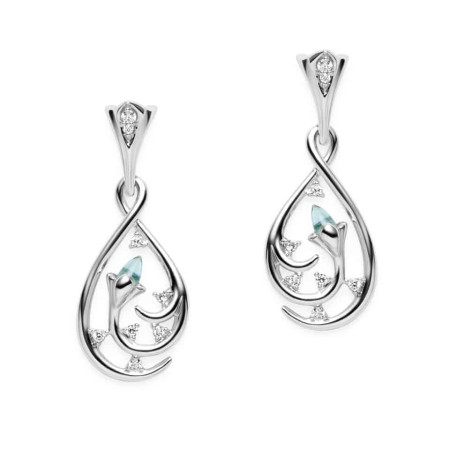 Dew Drop Earrings
£ 795.00
Product is currently out of stock and it is on back order, please chat to the team for assistance
SKU:

15803
Categories: Diamond Earrings, Recipient, jewellery for women, Jewellery, ladies jewellery, White gold jewellery sets, Earrings, 18ct Gold, Collections, PureJewels, Floralia
18ct White Gold Dew Drop Earrings
– 0.12ct Diamonds
– 0.20ct Aquamarines
– Available in pink tourmaline, green tourmaline and morganite
Hallmarked by London Assay Office
Comes With Presentation Box
Delivery Included
All prices include VAT
Contact us / chat with us to explore our exclusive collection of Floralia Jewellery
A surprising touch of light: dew drop earrings in 18ct white gold. Floralia is a romantic, delicate collection inspired by the charms of nature.  Our Dew drop earrings feature glossy drops of dreamy aquamarine – sprinkled with delicate diamonds.
18ct white gold dew drop earrings
Floralia is an archive collection designed in-house, and exclusive to PureJewels.  It's one of our bestselling sets of jewellery, blending contemporary 18ct white gold with a choice of stones.  The lines are romantic and inviting, like tendrils of jasmine framing a secret doorway.
Our dew drop earrings are a collection highlight.  Fashioned in white gold, the tiny leaves have been dappled with diamonds.
Your choice of gemstone
The jewellery in our Floralia collection can be tailored to suit your personality.  Are you a rose-tinted beauty or happiest beside the sea?  Choose between pink tourmaline or clear blue aquamarine and have these dew earrings made just for you.   (To discuss other options or a bespoke jewellery commission, call the store.)
To order your piece, get in touch with us over Live Chat or pop into the store to see samples.  If your choice is not in stock then it will be made to order, so it's best to call and check delivery lead times.
Explore the Floralia collection…
Build a special set by matching our dew-drop earrings with jewellery from the Floralia collection.  For the stylish bride, Floralia makes a delightful bridal set, especially if your theme is natural or vintage.  The contemporary white gold and softly-hued gemstones give it a luxurious and modern look.  Try it with the decadent Floralia cocktail ring, or dial up the diamonds and add the 2.5ct Floralia necklace.   You don't need many of these pieces to make a truly beautiful statement.
Product is currently out of stock and it is on back order, please chat to the team for assistance
SKU:

15803
Categories: Diamond Earrings, Recipient, jewellery for women, Jewellery, ladies jewellery, White gold jewellery sets, Earrings, 18ct Gold, Collections, PureJewels, Floralia