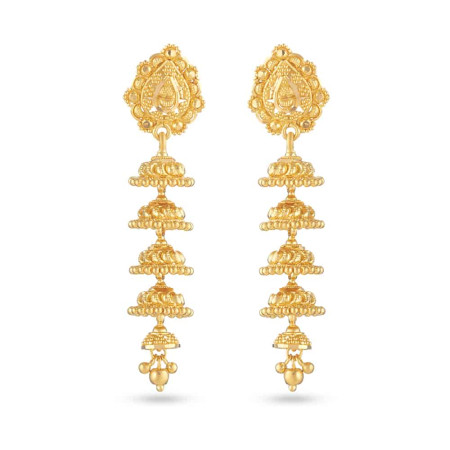 Jali 22 Carat Gold Jhumka Earring
£ 940.00
SKU:

30825
Categories: Drop & Dangler Earrings, Occasion, Birthday Jewellery, 30th birthday jewellery, 40th birthday jewellery, wedding Gifts, Recipient, jewellery for women, Jewellery, Earrings, 22ct Gold, Collections, Jali
Jali 22 Carat Gold Jhumka Earring
With fine filigree Design
Wt : 13.4 g
SKU. 30825
All our products are hallmarked by London Assay Office
Comes With Presentation Box
Delivery Included
All prices include VAT
Live chat / whatsapp us to explore entire collection of Indian bridal jewellery in Gold.
Looking for some feel-good?…  Try these extra-long 22ct gold Jhumka to highlight your elegant neck.  Our gold jhumka come in many colours and sizes; this pair is exceptionally classy.
We love a classic gold Jhumka, so we took that joy and doubled it.  Twice.  With five bells – handmade from glorious 22ct gold – and a delicate bunch of gold balls suspended in motion at the bottom, this is a maxi-length Jhumka.
22ct gold jhumka earrings come from the Indian jewellery canon.  They're iconic, worn by women as long ago as the Mughal era, and quite often covered in diamonds and pearls.  This pair is relatively understated in contemporary 22ct gold shaped in a long slender column.  The classic tinkle as they move is associated with wealth and status.  You just have to love a piece of jewellery that moves.
Choose these special gold Jhumka earrings for a glamorous occasion.  They make a fabulous gift for a sophisticated 40-year-old or a fashionable Insta-personality.  This is a timeless Indian earring design that everyone deserves to enjoy.
SKU:

30825
Categories: Drop & Dangler Earrings, Occasion, Birthday Jewellery, 30th birthday jewellery, 40th birthday jewellery, wedding Gifts, Recipient, jewellery for women, Jewellery, Earrings, 22ct Gold, Collections, Jali