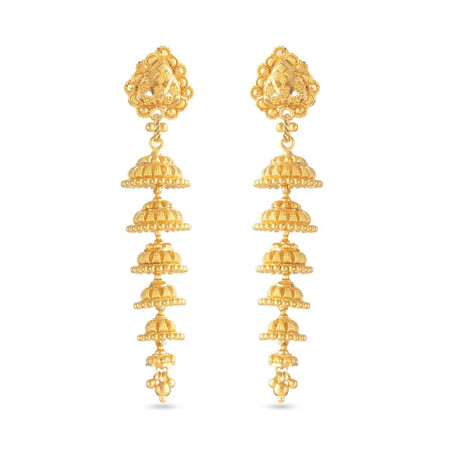 Jali 22 Carat Gold Jumka Earring
£ 1,253.00
Jali 22 Carat Gold Jumka Earring
With fine filigree Design
Wt : 17.9 g
SKU. 30826
All our products are hallmarked by London Assay Office
Comes With Presentation Box
Delivery Included
All prices include VAT
Live chat / whatsapp us to explore entire collection of Indian bridal jewellery in Gold.
Our heritage pieces are widely adored, but they aren't always easy to wear.  So we made a contemporary version of that old Indian favourite – the gold Jhumka.  Because we love taking vintage styles and freshening them up for you.
Delicate shapes in a striking arrangement: that's the beauty of good design.  And while good design never really dates, we do love to freshen it up a little.  So we've given the classic Indian Jhumka a glamorous make-over.   Now those pretty little earrings are long, dramatic, and ready to celebrate.
Using only 22ct gold and the authentic bell-shape, our new Jali 22ct gold Jhumka earrings are handcrafted with filigree details.  They feature the traditional Jhumka bell – adorned with texture and beads – in a graduating drop, finished with the gentle shimmer of gold balls.
The Jali 22ct gold Jhumka earrings would be great for a party and even better as a birthday gift.  Who wouldn't love the charming sway of an Indian jhumka?  What a way to express your heritage – and your charisma.