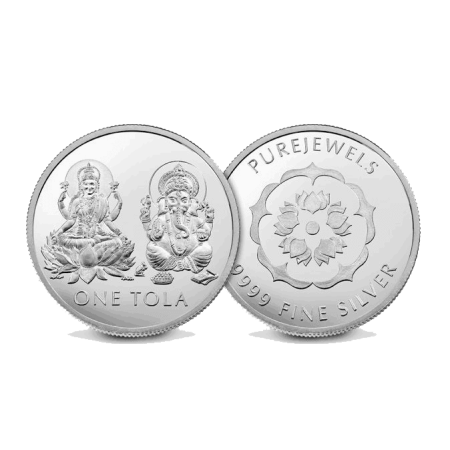 PureJewels' Lakshmi & Ganesh Silver Tola
£ 45.00
SKU:

PJSTGL
Categories: Silver coin And Bar, Fine Gold Bars, Christmas, Hidden Treasures - Gifts Upto £150, Collections, PureJewels, Silver Tola, Gifts, PureJewels' Silver Tola
Tags: diwali, diwali coin, diwali gift, ganesh, lakshmi, pure silver coin, silver
Commemorative collector's edition
The PureJewels' Lakshmi & Ganesh Silver Tola
Searching for a special gift with historic meaning? For traditionalists, this link to ancient Indian culture will bring great pleasure. The Tola is a unit of weight that dates back to Vedic times, when it was used to measure seed and grain. Today it's still used to weigh gold bars for investment in India and Asian countries. PureJewels has designed this silver Tola as a classic collectors' item. Made from purest 0.9999 silver and minted in London, it weighs in at 11.7g. The PureJewels Silver Tola arrives in a signature branded box: a gift that's truly meaningful.
This beautiful, desirable numismatic collector's edition, carefully designed and then minted in London by PureJewels in the purest 0.9999 silver, weighs in at the full historic one Tola of 11.7grams.
The exclusive PureJewels Silver Tola
You may have heard people referring to the Tola – a traditional measure of gold pieces, and a marker of wealth since ancient times.  PureJewels decided to reinvent the Tola for modern purposes, and has introduced a small number of limited edition coins in silver.  Each silver Tola features an emblem of interest or special value to Indian culture.  Accompanying our Ganesh silver Tola is the Krishna silver Tola; choose your favourite or start a collection.
Why we created the Silver Tola
The Tola is affectionately regarded among older generations and we decided it would be welcomed back among our local community and further afield.  So we created this historic coin.  The Ganesh silver Tola carries an illustration of Lakshmi and Ganesh in silver, and will be treasured for its beauty as well as value.  We think that the silver Tola is a perfect gift, made in London from the purest silver (0.9999) and presented in a luxurious box.   It's exclusive to PureJewels.
Collect our Silver Tola
Our silver Tola coins are issued in limited collections.  The Krishna silver Tola is also available from PureJewels.  To receive updates on the next issue, follow PureJewels on Facebook or Instagram.
SKU:

PJSTGL
Categories: Silver coin And Bar, Fine Gold Bars, Christmas, Hidden Treasures - Gifts Upto £150, Collections, PureJewels, Silver Tola, Gifts, PureJewels' Silver Tola
Tags: diwali, diwali coin, diwali gift, ganesh, lakshmi, pure silver coin, silver