Choosing a piece of jewellery can be a very personal experience. It's certainly different to going out and picking up some new outfits. We buy a multitude of clothing throughout the year but how often do you consider a premium jewellery item? Whether it's for an engagement or an anniversary, you'll put a lot more thought into your dazzling ring and its accoutrements than the get-up you're wearing. But perhaps the pendants and earrings you've seen on the jewellery store shelves aren't feeling quite so unique either, and you want your time to shine in bespoke statement pieces? Here are some tips for buying handmade gold jewellery in the UK.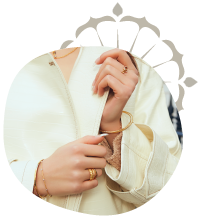 The Starting Point when Buying Handmade Gold Jewellery in UK
Before you begin your jewellery journey ask yourself some simple questions:
How much are you able to spend?
How much time will you need?
What is your metal and stone preference?
What's your style?
Exactly what piece are you looking for?
The answers you find will bring shape to the whole process, and help you connect with a unique designer who can take you down the path to some of the most stunning and bespoke handmade gold jewellery available in the industry.
Give Yourself Time
The road to any quality piece of jewellery starts with time. First, you'll want to think about exactly what you're expecting and what you can afford. Are you having something designed from scratch or maybe you'd like to have an item you currently don't wear adapted? You'll need to research designs and jewellers you like and write off the ones you don't, compiling pictures. You'll need to wait for drafts and then again if alterations have to be made. Once all that has been accounted for, your artist will take it all on board and lovingly craft your dream into real life. If you want your piece on time for a specific occasion, you'll need to plan in advance.
Set a Budget
It's important to remember that the cost of your jewellery does not just cover the metal or the gemstones but also the work that goes into sourcing, designing, and the competency involved in delivering you a piece of quality workmanship. You should try not to base costs on any current gold prices or the price of a diamond in a shop window as they fluctuate frequently and many window pieces will have predetermined price points based on making a batch at a time. If you have a smaller budget, you can find many artists happy to try and put something together by resetting, or creating an entirely different setting on an existing piece of jewellery, or replacing stones with a different cut and colour to bring a fresh feel.
A jeweller who ultimately cares about your considered purchase will take no issue keeping within your budget and will communicate their value openly, letting you know what can and can't be accomplished with both your time frame and spending budget. Be open with your expectations but allow them the room to wiggle should they have to, a designer who doesn't believe they can match your intentions won't want to waste anyone's time or money.
Cut, Colour, Clarity, Carat
Gemstones have fascinated humans since the beginning of civilisation, whether we are adorning ourselves or using them to make ornaments, they are culturally ingrained in many traditions from throughout the world. Experts have even found shell necklaces dating back almost 150,000 years, so it's easy to think of our ancestors falling in love with decorating themselves in iridescent splendour once they found the ability to mine these precious minerals.
Handmade Gold Rings
Rings are an excellent way to showcase a beautiful gemstone. Following the 4 Cs, dusty opaque quartz can be transformed into a scintillating transparent amethyst and a quality jeweller can create the perfect setting for that stone to sit in. A good ring setting needs a gallery, so light can travel through the gem, bringing it to life, which is a tip to remember when designing. If you're after something abstract like a polished turquoise, a flatter bezel setting may suit better, as it reflects light with no need for refraction to bring out the bold colour.
Set the Scene
As well as one main stone, there are other styles to consider. Sapphires are often found in cluster settings; expertise is needed to mould the metal and hold the gems in tiny prongs that don't detract from the lustre of natural corundum. Diamonds can be found uniformly honed into sharp baguette cuts and then channel set in a looping row of twinkling delight. These factors are all affected by your budget, of course, so you shouldn't rush in with expectations too high. Save all of your ideas and talk them through first.
Picking a Jeweller
As with any good business, the best way to hear about amazing service is through word of mouth; ask friends and acquaintances for recommendations and their experiences with buying handmade gold jewellery. Also, read online reviews and see what platforms you can find the jeweller on, searching for likes and followers. A well-established, competent designer will no doubt have their own website but reviews on more neutral platforms may prove enlightening, however, you might find some basic pricing ideas and you'll get a chance to catch the vibe of the artist.
You'll find many won't suit your personal style, beauty is a very subjective thing after all! While beads and chunks of dripping crystals are found around many a fashionista's neck, some designs could be considered gaudy or clashing. The classic solitaire setting of a traditional engagement is often sought after by some, but a few now think of this as old fashioned, wanting a more dynamic look with their jewellery. With so many excellent designers and proficient engineers out there, there is something for everyone and it shouldn't take too much searching to find the right one for you.
Handmade Gold Bracelets
Your chosen designer might be able to draft a beautiful finger adornment but what about a more complex piece? The links and clasps of a well-crafted bracelet are decidedly intricate. Do you want a rope bracelet with a set of charms or a more iconic "tennis bracelet" design with a row of scintillating gemstones? The steps needed between taking the ideas from your mood board and wearing a finished product are many, no matter what design you long for.
With multiple stone settings and joints to master, a true craftsperson will take their time melding and shaping the gold into your vision, while ensuring any gems are held firmly and clasps are tight and secure. You would not want to lose any jewellery because of a faulty lock!
All That Glitters
Our fascination with gold has been going on for about as long as our adoration of gemstones, if not longer. Since its discovery, gold has been used to signify wealth and riches, or to highlight iconography, emphasising symbolism. The essence trickles down from royalty into our everyday traditions. Western babies are gifted gold bangles while eastern cultures wear earrings and nose studs at an early age, we use gold as adults in our commitments to each other as well as showing our different faiths.
Some people just like to glitter and what's better than an 18K curb chain necklace to catch a person's eye! From 9K to 24 carats, all golden jewellery holds a beauty that simply can't be denied.
Handmade Rose Gold Jewellery
Yellow gold is used in so many ways because of its durability while being one of the softer metals out there. This makes it a perfect metal for jewellery as it can be manipulated easily in skilled hands but wears well in general use. Typically, gold is alloyed with silver and copper to maintain its canary tones, but when mixed with different metals, other colours are produced, resulting in White or Rose shades.
Using zinc, nickel, and sometimes platinum, white gold occurs; mixing pure gold with higher levels of copper produces pinker tones resulting in rose gold. The extra mixing involved can make the alloy volatile if not handled well, but this shouldn't be a worry with a trustworthy, established jeweller.
Use Your Influence to Design Handmade Gold Jewellery
So, where have your ideas taken you so far? Is it a ring you're wanting or a necklace? Which gem – a transparent iridescent brilliant cut diamond or a glimmering chain of polished pearls?
Your jeweller needs you to inspire them, be their inspiration. Don't be shy with your thoughts, you don't want a piece of jewellery that you could have bought elsewhere, you're looking for an intimate, considered purchase and your jeweller wants to help you achieve your goal. As said previously, mood boards are great for capturing what's going on in your mind when you think about what you're after. Use all the tools you have at your disposal to assist both the designer and you to move from the drawing board to the finished creation.