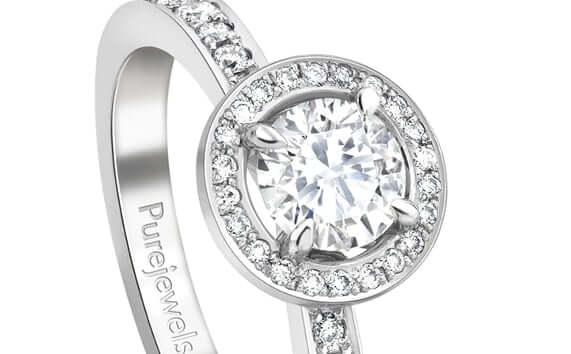 Display 45 Products per page
Engagement rings designed in the UK
In the 1970s, Bhanji Gokaldas sailed out of India and began a journey that would hone his jewellery-making craft, and eventually land him in London.  Today, PureJewels is run by Bhanji's family and is still based on the principles of skill, artistry and emotion.  Our engagement collections are designed by a small team, and largely made in the UK (with diamonds that we choose from India).  This means that your engagement ring – which began with a pencil, paper, and a dream – will pass through many hands before it settles on yours forever.
Men's engagement rings
We carry a collection of Christian Bauer wedding rings that make beautiful dress or engagement rings.  From textured finishes to geometric pattern and stylish gold accents, Christian Bauer wedding rings are beautifully diverse.
But, while some men's engagement rings are displayed on these pages, we are not about to dictate the kind of ring you might wear.  If you have a faint idea – or even a very specific idea – and you'd like a genuinely unique men's engagement ring, we'd love to hear it.  Just book an appointment to come and meet our design team or jeweller.  PureJewels has worked with many clients, including extremely high profile customers, to create pieces of jewellery that evoke special memories or meaning for their wearers.
Diamond engagement rings
If you're looking at the rock rather than the ring, then you'll be pleased to know that you can customise diamond size on any of our engagement rings.  At PureJewels you can choose a design and then specify the carat and clarity of the stone you'd like, depending, of course, on your budget.  Use Live Chat to find out how far it will stretch!  Or come into the store and try on all of the diamond engagement rings… is there such a thing as a diamond that's too big?
Rose Gold and Diamond engagement rings
Rose gold is the choice of the moment.  It's romantic, alluring, and – with a high proportion of yellow gold – it will also maintain its value.  We have a collection of rose gold and diamond engagement rings in our signature style.
PureJewels engagement rings for women
Our in-house collections include Lotus (classic design with a focus on the diamond); the authentically Indian Vinyasa (inspired by the iconic peacock, which has a rich history in Indian jewellery); Gaja (a decadent style named for the royal elephant carrying a Maharani in parade); Bombay Deco (an irresistible statement design with a splash of Mumbai Art Deco); and Mughal (truly palatial style).