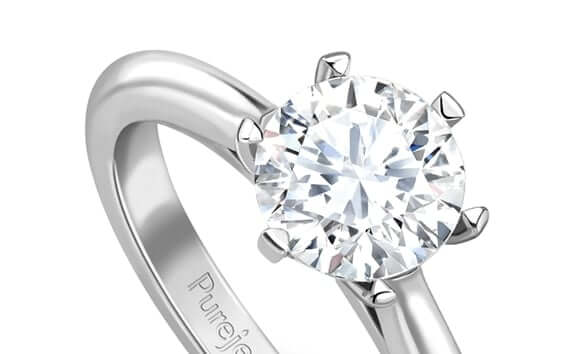 Display 45 Products per page
Lotus engagement ring – our signature diamond engagement rings
When you open the box to find a Lotus inside, it's not just the diamond that will be glowing.  Our designer was asked to create something as beautiful, strong, and astonishing as true love.  Lotus engagement rings are breathtakingly evocative, and simply perfect for your engagement moment.
Choosing the diamond for our Lotus engagement rings
The Lotus is a special collection.  It has been inspired by the Lotus flower, which is a traditional symbol of purity (because it grows out of mud and emerges immaculate) and beauty (because of the intricate design).
The collection is fashioned in platinum, with a style that is perfect for purists.  You may choose between a four-prong or six-prong setting (a personal choice), the signature Lotus (with extra diamonds that can be glimpsed from the sides), or the decadent Fishtail Lotus.  It is a simple, elegant platinum engagement ring which shows off an exceptional diamond.
Each ring is hand finished and set with a premium diamond from our curated selection.  As Jayant Raniga explains: "The essence is to evoke a sense of purity – for this we will select the purest diamonds with the highest beauty."
It is also worth noting that every lotus diamond engagement ring sold by PureJewels arrives with a certificate to show that the stone has been independently verified by GIA, the Gemology Institute of America. It guarantees the stone's minimum clarity, colour and carat.
Tailor-made engagement rings
You may customise your Lotus setting engagement ring online, selecting the clarity and carat of the diamond that will be set in it. Rest assured that our diamond selection has been carefully hand-picked by our Master Jeweller in India. Every diamond has been chosen for exceptional lustre and fire. Our expert jeweller understands that going beyond the four Cs is the only way to find diamonds special enough for PureJewels. This is a discerning process.
If you are at leisure, you are very welcome to make an appointment in the store to view some of our current diamonds and choose the one that's exactly right.
Your online purchase is guaranteed.
Whether you customise your ring online or come into store for an appointment, you may order with absolute confidence.  We understand that an engagement ring carries a great deal of significance and it must be perfect.  Our Lotus engagement rings are covered by our Free Returns policy, and they come with complimentary valeting, to keep them looking beautiful for life.