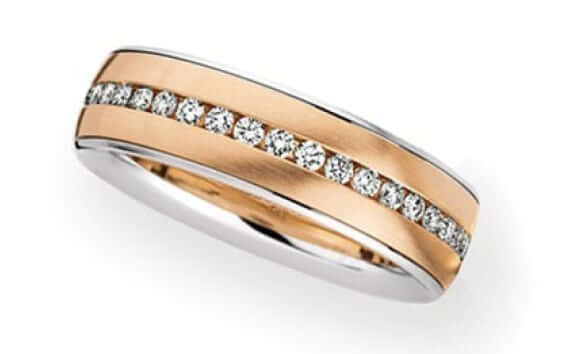 Display 45 Products per page
Christian Bauer rings and bands
Christian Bauer rings are made in extremely modern studio in Germany, where huge windows ensure that every workspace is brightly lit.  The use of technology is selective, with much of the work still being done by hand and eye.
The company has a 135-year heritage, and still places high value on artistic craftsmanship.  We think it shines out of every ring that they create.
Christian Bauer diamond platinum rings
Many of the Christian Bauer wedding rings that we hold in stock feature a row of brilliant diamonds.  The German jeweller is very particular about the stones that it will use in wedding bands, believing this to be a piece of jewellery of the greatest importance.
As such, the jeweller does not merely import loose stones and use them indiscriminately.  Whatever the weight of your diamonds, every stone has a unique character, and a good jeweller will search out those that are special.  At Christian Bauer, diamonds are individually selected for colour and brilliance, before being impeccably hand-positioned into a platinum ring.
Why platinum?  Most Christian Bauer wedding rings are made using a base of platinum.  This is the strongest precious metal, so it is built to withstand a whole life of wear.
Once the stones have been set into your wedding ring, it will pass through many more pairs of hands – for polish and finishing – before being dispatched to London.
Specialising in wedding and engagement rings, Christian Bauer has been a part in the journey of many brides and grooms.  The jeweller has an affection for creating their symbol of love, and takes care to create each one as an individual work of art.
Christian Bauer rings are made with an attention-to-detail that equips them for a life of love.
Choosing a Christian Bauer wedding ring
Your wedding ring is an important choice, which will remain with you for an entire lifetime.  So don't negotiate.  Choose the very best ring that you can afford, and then never take it off.
Christian Bauer wedding rings feature interesting textures and contrasting gold design details.  Colour is an important element, and Christian Bauer uses platinum as well as gold in different colours, sometimes together, to create a joyful and bright finish.  Many are inlaid with diamonds, which will add extra sparkle to an accompanying engagement ring.   Brushed or glossy, platinum or edged in gold, finished with diamonds or geometric patterns – there is a wide range of styles in the wedding collection.   Whether you prefer a wedding band that's contemporary or traditional, unusual or classic, you'll find something to suit your taste on these pages.
Come to see our collection of Christian Bauer wedding rings
PureJewels is a licensed Christian Bauer stockist.  We love the heritage and evident care taken by their jewellery-makers, using a combination of traditional and contemporary techniques.  And we have witnessed our clients admiring the fit and comfort of the wedding bands when they come into the store.  Why not come in for personal advice?  You'll find that we carry a selection from the Christian Bauer collection, and are able to order other variations.  PureJewels is family-run with a friendly and honest approach – we don't want to hassle you and we don't want to sell you anything that you don't love!
For the VIP service, please make an appointment to view the wedding bands at our Green Street show room.
If you have any questions in the meantime, why not use our Live Chat facility?   You will reach an in-store advisor who can tell you about order lead times, options, and wedding rings that are currently in stock.  (You will reach a person in our store – not a call centre.)
And if you're ready to order your wedding ring, you can do it online (if you know the required size) or call us for advice and to place a custom order.