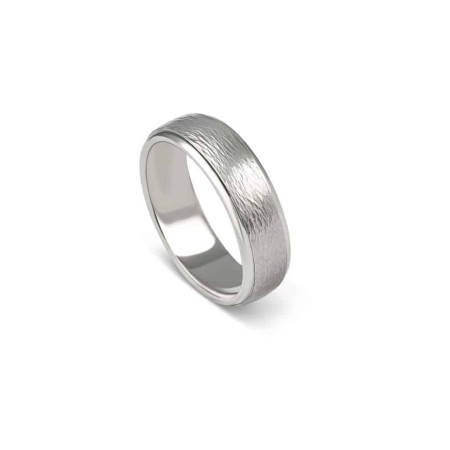 Christian Bauer Wedding Band Ring
£ 2,400.00
A wedding ring needn't be flashy or complicated: look for excellent metal and impeccable craftsmanship, and you'll have a ring to last a lifetime.  Christian Bauer rings are renowned for being comfortable and well-fitting – and in all the decades to come, that's what will matter.  Drawing on the jeweller's century of experience, this wedding ring is a sophisticated design with a touch of individuality.  The wood-grain texture (possibly inspired by the dramatic forest close to the jewellery studio) adds close-up interest.  Christian Bauer rings are made to order, so please get in touch if you'd like to reserve yours, and we will advise you on fitting.
Authorised stockist of Christian Bauer rings in London
Christian Bauer Wedding Ring for men –274460
Metal: Platinum
Width: 6.5mm
*Your ring is individually made, so contact us to find out about lead times.
Why choose a Christian Bauer ring?
Buying a wedding ring is no simple task – and neither is crafting one.  Christian Bauer rings are famous for being beautifully made and comfortable to wear.  Christian Bauer also has a reputation for environmental sustainability.  The jeweller is based in modern premises near the Welzheim Forest, with its own water treatment works and a commitment to disturb no earth, instead using previously-mined metals. 
PureJewels is an authorised stockist of Christian Bauer in London
This prestigious German jeweller has been supplying us with wedding rings for years and we've been privileged to sell them to many delighted brides and grooms.  We're here to help you find precisely the right wedding ring, so make an appointment or just pop in and try on a selection.  If you're unable to reach the show room then you can reach us by Live Chat – you'll be served by an in-store advisor who can show you pictures of the latest Christian Bauer wedding rings in stock.