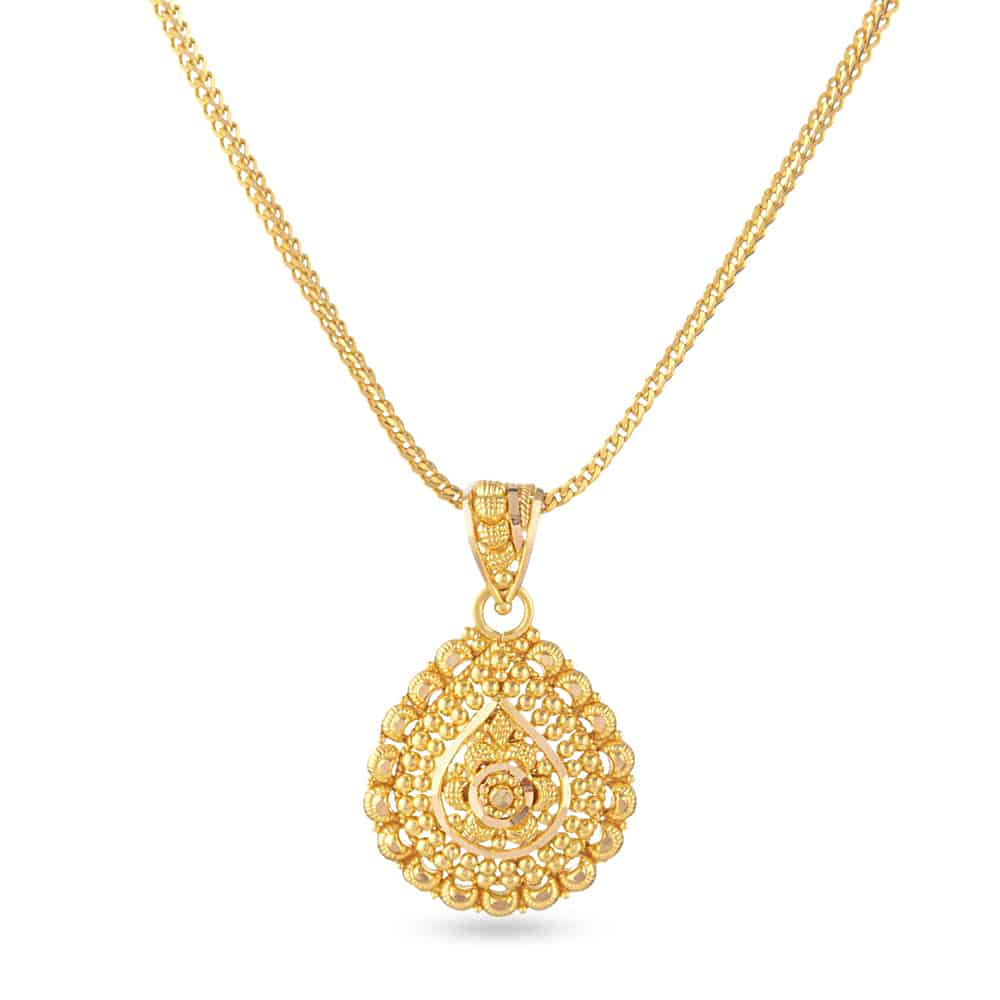 22 Carat Gold Filigree Pendant
£ 220.00
Product is currently out of stock and it is on back order, please chat to the team for assistance
SKU:

30827
Categories: 22ct Filigree Pendant, 22ct Gold, 50th birthday jewellery, 60th birthday jewellery, 70th birthday jewellery, Birthday Jewellery, Collections, Jali, Jewellery, jewellery for women, ladies jewellery, Occasion, Pendants, Recipient
22 Carat Gold Filigree Pendant
wt. 2.8g
Sku 30827
Chain not included.
All prices include VAT
All our products are hallmarked by London Assay Office
All Sets Comes With Presentation Box
Delivery Included
Live chat with us on Whatsapp for more images and video of this product
Curving out in a feminine dewdrop shape, it's made in 22ct gold – masterfully manipulated to create a labyrinth of texture.
Zoom in to a maze of 22ct gold wire and rows of radiant gold beads.  The detail on this gold filigree pendant is quite breathtaking.   And it looks even more spectacular in real life…
Filigree is an ancient art based on the use of gold wire and heat-moulded balls.  It's incredible handiwork and we are committed to preserving it.  Wny?  Because gold filigree is inseparable from the Indian jewellery tradition.  If you're an Indian jewellery enthusiast, then you need one of our gold filigree pieces in your collection.
If you've been to India, you may have seen similar patterns in historic architecture and textiles.  Filigree echoes the swirling patterns of paisley, with twisted wires and rows and rows of sunny beads.  It's made from 22ct gold, but the spaces between the rows keep the designs light and wearable.  This dewdrop is a real classic, and it's perfectly sized to wear for any occasion.
Come into store for the chance to try on all of our authentic Indian gold filigree collection.
Related Products
Recently Viewed
Product is currently out of stock and it is on back order, please chat to the team for assistance
SKU:

30827
Categories: 22ct Filigree Pendant, 22ct Gold, 50th birthday jewellery, 60th birthday jewellery, 70th birthday jewellery, Birthday Jewellery, Collections, Jali, Jewellery, jewellery for women, ladies jewellery, Occasion, Pendants, Recipient