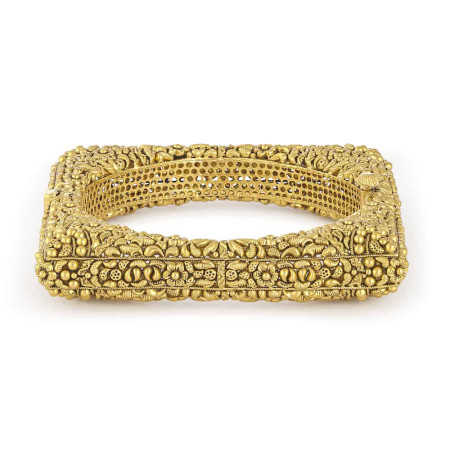 22 Karat Gold Kada With Antique Finish
£ 4,030.00
22ct Gold Ornate Kada with Antique  Finish from our Rosettes Collection
Square Shape With Screw Back
Wt. 47.4 g
SKU. 30916
Can be made to order in all sizes
All prices include VAT
All our products are hallmarked by London Assay Office
Comes With Presentation Box
Delivery Included
Contact us / chat with us for live video of product
Strong arms stand out in this striking gold kada bangle.  It is lavished with global blossoms – a part of our highly-anticipated Rosettes collection.
Armour up.  22kt gold kada bangles – once worn by warriors going into battle – are seeing a resurgence, whether as a symbol of faith, an emblem of protection, or a handsome ornament.  If you're looking for a special-occasion piece or gift, this will be perfect.
This highly unusual and striking bangle comes from our exclusive Rosettes collection.  Designed to fuse the flora of India, England and Africa, it is teeming with detail and texture.  There are not many jewellers producing original Indian designs at this standard.  Each one is an exceptional piece of handiwork – and a serious piece of gold; weighing in at 47.4g, it's an investment piece to wear for a lifetime.
22kt gold kada bangles make stylish gifts for the modern man.  You can discover many of our authentic gold kada online, or come into the store and try them on.