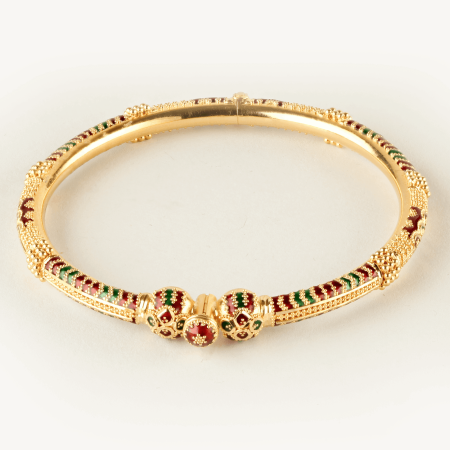 22ct Gold Jali Bangles
£ 1,160.00
Product is currently out of stock and it is on back order, please chat to the team for assistance
SKU:

26185
Categories: 22ct Gold, Bangles, Collections, Gifts, Jali, Jewellery, jewellery for women, ladies jewellery, Lladro, Recipient, Regular Wear Bangle
Tags: bang, bangal, bangel, bangels, bangle, bangle bracelet, bangle kada, banglees, bangles, Filigree, gold, gold bangle, kada, kadabangle, khanda
From afar, it's a blaze of ruby and gold dancing on your arm.  Close up, this delightful, 22ct gold bangle is finely detailed with glossy enamel (Meenakari) in ruby red and emerald green.  We love this traditional technique, which came from Persia to India 400 years ago, became beloved by the Mughals, and is now a revered craft.  (Watch a goldsmith applying enamel, and you'll see just how much skill is involved.)  This gold Meenakari bangle is a lifetime piece, perfect for special occasions, and sure to be adored by future generations too.
22ct Gold Meenakari Bangles
Wt : 17.8 g
With Green and Red Enamel Work
22ct Gold Hallmarked by London Assay Office
Comes With Presentation Box
Delivery Included
All prices include VAT
Live chat with us for availability and more images of similar designs currently in stock
22ct Gold Meenakari Bangles
Before the internet, the jewellery-maker's secrets were passed from person to person; you'd only learn a technique by witnessing it.   And this habit has kept Meenakari in Jaipur for hundreds of years – as sons and grandsons learned from their elders and practised the magical art of applying, then firing, paste to create the gleaming enamelwork.
Associated with Indian royalty and prestige, Meenakari bangles are perfect for celebrations.  Our 22ct gold bangles with Meenakari are really special: each one is just slightly different, so yours will be individual, just like they were in the Mughal era.
22ct Gold Bangles
If you're looking for a memorable gift, our 22ct gold bangles guarantee a big wow.  We specialise in bangles that are authentically Indian, made to our very high standard and often with a contemporary twist.  Delicately adorned with gorgeous enamelwork, our gold Meenakari bangles don't differ much from the classics in the history books… for those days when you want to feel connected to your past.
Product is currently out of stock and it is on back order, please chat to the team for assistance
SKU:

26185
Categories: 22ct Gold, Bangles, Collections, Gifts, Jali, Jewellery, jewellery for women, ladies jewellery, Lladro, Recipient, Regular Wear Bangle
Tags: bang, bangal, bangel, bangels, bangle, bangle bracelet, bangle kada, banglees, bangles, Filigree, gold, gold bangle, kada, kadabangle, khanda